Gus and his good friend bought a
fishing
boat together. They found it on
ebay
motors. Would you believe it was in the next town over? Only 15 miles away! It really was a good buy for them. Young son has been an avid fisherman since he could walk. And the kid knows his stuff.
DaddyO
and I picked up the boat, which came with a trailer and a small motor, while H-bug was working. This is the first chance he and his friend had a chance to take it out. When he asked if he could go fishing, I assumed they would be taking Gus's truck and the trailer. But when I went out to see if they needed lunch first, this is what I saw. It made me laugh! They had
decided
to take the friend's car instead of the truck. I hope they make it up the mountain without any trouble. Silly Boys.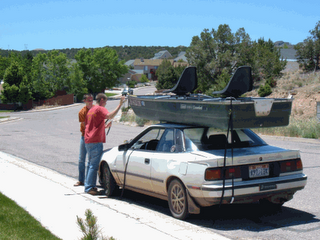 Gus's friend leaves for Marine boot camp in about six weeks. I am sure going to miss him.