Daddy-O bought a new blender the other day. He surprised me with it. Yeah. I was surprised. I also saw through his thinking. If it was a surprise for me, then it was okay he spent the money on it. Right?
Truthfully, I've been wanting a blender. I don't have one and I have wished a million times I did. But I don't have room for one in my tiny kitchen. If I had somewhere to put it, I would have 'surprised' myself with one a long time ago!
None of that matters to Daddy-O. He loves to cook. And no one is going to stop him. But his idea of cooking is actually creating. He adds a little of this and a little of that. Sometimes he adds a lot of this or that. He is most happy when he's in the kitchen (or in the garage building rockets. But that's another story). As for the results of all his experimentation... Let's just say he's the only one who enjoys his food.
Here he is making tomato soup: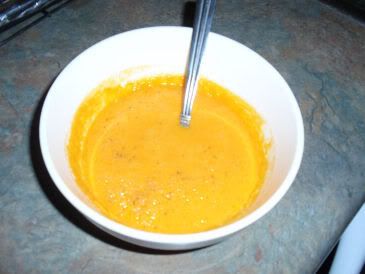 Not sure why it's yellow. The tomatoes were red when put in the machine. And I can assure you, it's not my photography skills. It really was this color!