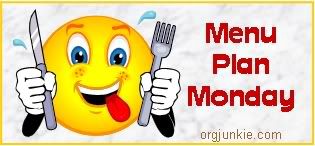 Although this is my first time participating in Menu Plan Monday, I've spent many weeks reading the great menu's that have been shared there. I've enjoyed many of the recipes shared and all of the blogs I've found along the way.
Here is our menu for this week.
Monday:
Breaded Chicken Breasts
Corn Bread Dressing (Stovetop)
Buttered Corn
Tuesday:
Crock Pot Corn Chowder
Grilled Cheese Sandwiches
Wednesday:
Lasagna
Green Salad
Rolls
Thursday:
Pork Roast
Mashed Potatoes and Gravy
Peas
Friday:
Meat Loaf
Baked Potatoes
Steamed Broccoli
On the weekend, we just wing it.
Thanks for visiting! If you'd like more menu ideas, head on over to
I'm an Organizing Junkie
!
Mood:
Calm
On the TV:
nothing