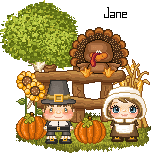 I know I've been a touch negative in last last couple of posts. I apologize. It's been a rough week. I'm positive the winds have changed and good moods are headed my way!
I spent a bit of time today preparing my assigned dishes for the big meal tomorrow. I put the green bean casserole together and made two pies. I made a pumpkin pie, of course. And I also made an apple crumb, which I'd never tried before. It looks really good so hopefully, it will taste as good.
In the morning, Daddy-O will put the turkey in the oven, and I will make the mashed potatoes. Then we'll make the trek to our guests home.
Like most of you, today I have thought a lot about what I am grateful for. I think it would be good if we had a day of thanks more often than once a year. Sometimes I forget about the little tiny things have have made my life easy. Like good drinking water. Or birds who eat spiders. And, living in the United States.
Of course I am thankful for my family, especially Daddy-O, Marine Boy and Young son. I am very grateful Marine Boy came home from his deployment without incident. He is safe and that is such a great blessing.
I am thankful for the modern medicines that give me not only life, but quality of life. I am thankful for the doctors and equipment that keep me healthy.
I am so blessed to have my warm home and the love that fills it. It's not my dream home, but it is where many of my dreams have come true.
I have much gratitude for the men and women of the military. And also for their families. I know their sacrifice is great. The fact they do it willingly is incredible. I am grateful for those who protect our neighborhoods and cities. I feel so blessed to live in this great country, with the freedoms we have every single day.
I could go on for days listing blessings. But I think you get the idea. I really hope tomorrow is a joyful and safe day for all of you.
Happy Thanksgiving.
Tag by Veronica's Pixels