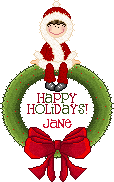 The Thanksgiving weekend is almost finished. Tomorrow morning, Daddy-O will go back to work after having the past five days at home with us. It was a rare treat to have him home that many days, and I will miss him.
Our Thanksgiving dinner turned out to be really nice. The food was delicious. And the company was nice. We had a small gathering... only five of us! I really enjoyed that. For all my complaining, it was one of the best Thanksgivings I've had in a long time. I wish I had a picture or two to share, but of course, I forgot to take my camera.
Marine boy will be home next week. I can hardly stand it. It's been seven months since I've seen my boy and I can't wait to give him a big hug! His schedule is kind of funny. He will be here for about a week. Then has to go back to the base. Then he'll come back in time for Christmas. I wish he could stay straight through, but he didn't have enough vacation days saved up. It will be a lot of traveling for him, but I'll take him whenever I can have him!
I have lots of cleaning and planning to do. I won't have much shopping time this December, so I'm going to have to be organized. I know pretty much what I want to buy for everyone, so hopefully it will all go smoothly. Every year I tell myself I'm not going to wait until December to start my Christmas shopping. But that never happens. Maybe next year I'll make it happen.
I doubt it.
tag by the

sigtag

cafe