One of my and Daddy-O's favorite weekend activities is grocery shopping. . We can spend hours in a grocery store looking around. He is looking at the cheeses and exotic spices. I on the other hand, am looking at the E.L. Fudge double stuffed cookies. Or the Ho-ho's.
Saturday as we wandered around the store we were discussing what to fix for Sunday dinner. Lucky for me, my guy usually does the cooking on Sunday nights. It's fun because he makes things I would never make. I usually turn my nose up at his suggestions, then eat more than anyone else when he's finished cooking.
Saturday though, I knew exactly what I wanted. Gus and I had been talking about how much we crave Daddy-O's homemade ravioli. It is wonderful. Little pockets of heaven. They are a lot of work so we hardly ever have them. Of course D-O balked a little, but I persisted. And won. We were having ravioli and I couldn't have been more happy.
A little history. Daddy-O lived in Italy for a couple of years. He took advantage of his time there to learn everything he could about the culture. And the food. That's where he learned to make ravioli. In fact, he brought his pasta machine back with him from Italy. They can be bought in the states, but I like thinking about it coming from a little Italian store. He doesn't use a recipe, or I'd be happy to share with you. But he does have a method, so I took pictures.
First. Here is Daddy-O.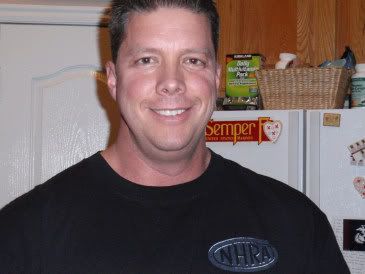 Isn't he cute?
This is Gus.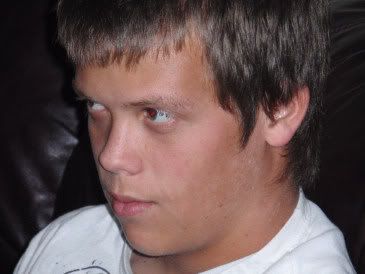 He's cute too.
Back to the ravioli. First Chef-O makes the cheese filling. He starts with ricotta cheese, shredded mozzarella, grated parmesan and a little dried parsley. This time he also added other unidentified cheeses he had on hand. Daddy-O loves cheese.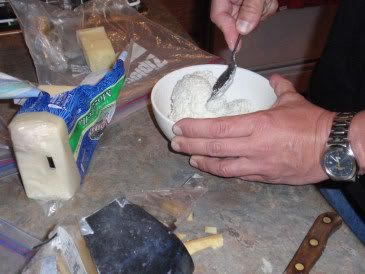 After the cheese mixture is made, he sets that aside and works on the pasta. He makes the pasta from flour, eggs and salt. Then he runs it through his pasta machine until it is just right.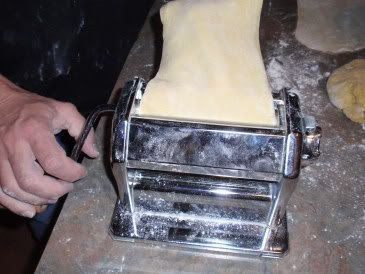 It takes three or more runs through the machine to make it perfect. The next step is to put it on the ravioli shaper. Okay. That is not the real name. I forget what it's called. (Did you notice his strong hands? *sigh*)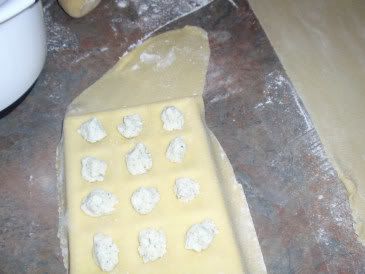 Finally, the ravioli and made. Now they set out to dry a bit.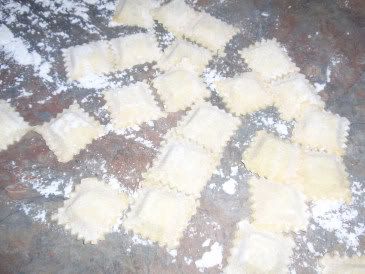 Finally! My favorite part! The ravioli is boiled gently. The sauce is made. Then they are mixed together and ready to be served.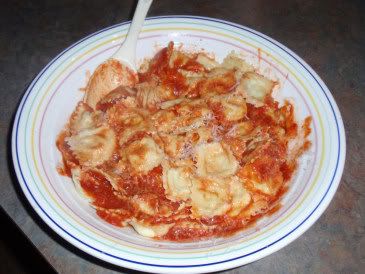 As they say in Italy, Mangia!
(
translation: eat!)