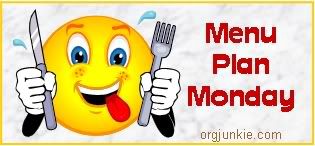 I love Menu Plan Monday. I spend hours, every Monday, visiting other blogs looking for dinner ideas for my family. Sometimes I will even find a new recipe to try.
Really, it's not so much making the meal, it's the planning of it. That's why this 'tool' is so valuable. Click on the banner to visit for yourself. You'll be so glad you did.
I'm not feeling very creative this week. But maybe you can find an idea or two for your menu plan.
Monday: Tacos
Tuesday: Stuffed shells, green salad
Wednesday: Smoked turkey breast, homemade dressing, mashed potatoes and gravy and a vegetable
Thursday: Chop Suey This is one of my favorite meals ever. If you're interested, you can find the recipe
here
.
Friday: Stir fry with noodles
Saturday: My night off
Sunday: Homemade Pizza