I love this time of year. The Oscar nominations were announced this morning. I admit I wasn't awake to hear them revealed live, but I did look for them online first thing. I enjoy the hype that surrounds the awards. I love the red carpet. I love the interviews. I love the lame jokes. I even enjoy the stupidity of some of the winners as they share their, in my opinion, misguided world views while accepting their awards.
While I admit, I haven't seen most of the movies and I don't know who many of the nominees even are, I still have my favorites. I would love to see Anne Hathaway win in the Best Actress category. Just because I love her. And I also would enjoy Slumdog Millionaire to pick up another trophy or two. But not Best Picture because they already have that recognition. I have no clue what the movie is about but it was delightful how genuinely grateful they all were at the Golden Globes.
I am most cheering for the category of Supporting Actor. I want Heath Ledger to win. Because it makes me feel like he's still here.
It was a year ago today that he was found dead. It breaks my heart whenever I think of it. I'm sure many share my emotions. I didn't see most of his films. I am just not that deep. I cannot handle anything unpleasant and most his films were that way. I didn't even see his Batman performance. Though the commercials were creepy enough to make me feel like I saw the movie.
It's probably no surprise that I loved him in 10 Things I Hate About You and A Knights Tale. Those are the only movies I saw of his. Well, I admit it, I tried to watch Brokeback Mountain. But only because it was on HBO the week after his death and he was still on my mind.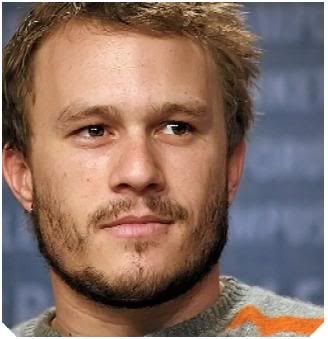 I don't know who he was in real life, but I think I would have liked him. It is such a shame he's gone.

Tag by Zarbella Graphic