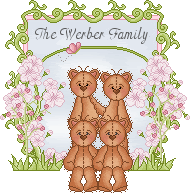 Traditionally, pumpkin dishes are enjoyed in the fall months. They are most popular in October and November. This year I am a day late (and a dollar short) I am only getting around to using my favorite pumpkin recipes.
Today I made a pumpkin roll. I have always loved these, but only made one once before. It was years ago and I don't remember if I did it right or not. I've been wanting to try it again and I finally got around to it.
I haven't tasted it yet, as I'm waiting to serve it for dessert. I found the recipe I used on
Recipezaar
(#5365) and it sure smells like a winner!
Pumpkin Roll
Cake:
3 eggs
1 cup sugar
2/3 cup canned pumpkin
1 tsp baking soda
1 tsp cinnamon
1/2 tsp nutmeg
3/4 cup flour
Filling:
1 (8 ounce)package cream cheese, softened
4 tbl butter, softened
1 cup powdered sugar
1 tsp vanilla
Beat eggs and sugar. Add remaining ingredients and blend to mix. Grease a 10x15 inch jelly roll pan. Line pan with waxed paper (I used parchment)then grease and lightly flour the waxed paper. Pour batter into pan and spread evenly. Bake at 350 degrees for 15 minutes.
While cake is baking, sprinkle powdered sugar heavily over kitchen towel. When cake is finished baking, turn hot cake on towel. Remove waxed paper. Sprinkle more powdered sugar on cake, then quickly roll up with towel inside. Let cake cool completely.
Meanwhile prepare filling by beating all ingredients together until smooth and creamy. Unroll cooled cake and spread with filling mixture. Roll up cake with filling on the inside. Wrap in waxed paper, then foil. Refrigerate or freeze. To serve, slice cake into 1/3 inch slices.
Note: I sprinkled chopped pecans on cake batter before baking.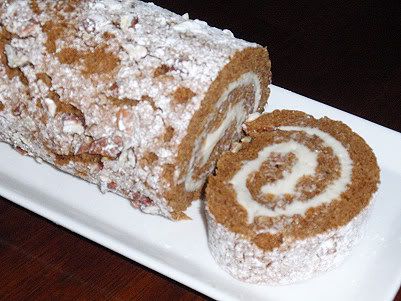 Tag by Chatterbugs