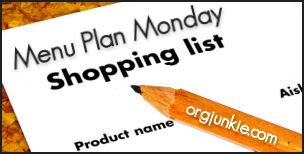 One of the reasons I like to participate in Menu Plan Monday is because Daddy-O can log on and see what is for dinner. If I am fixing something he likes, which is anything, then it helps him to hurry home after work. The sooner he gets home in the evenings, the happier I am.
Monday:
Hamburger Vegetable Soup
Homemade bread
Tuesday:
Stir fry
Steamed Rice
Wednesday:
Turkey Breast
Homemade Bread Stuffing
Green Bean Casserole
Steamed Vegetables
Homemade bread
Thursday:
Chili Relleno Casserole
Pinto Beans
Green Salad
Friday:
Baked Chicken Pieces
Buttered Mashed Potatoes
Steamed Corn
Saturday:
Pizza
Sunday:
Daddy-O cooks so he chooses
For more meal ideas hop on over to
I'm an Organizing Junkie
for Menu Plan Monday!