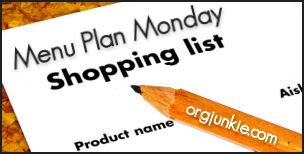 Welcome to all the visitors from Organizing Junkie's Menu Plan Monday. I hope my plan for this week can give you some good ideas for your own family.
This week is kind of up in the air. Daddy-O may be going out of town for several days, and if he does, then Gus and I probably won't cook much. He's happy with cold cereal and frozen burritos. I can always find something to fix myself because I'd rather die than eat a frozen burrito.
I decided to make a plan for the whole week anyway in case hubs doesn't go on his trip, that way I'll be prepared.
Monday:
Taco Salad
Chips and Salsa
Tuesday:
Gary's Chicken
Fried Potatoes
Corn on Cob
Wednesday:
Ham and Beans
Corn Bread
(I planned this for last week, but couldn't find the beans I wanted. I prefer the small white beans to navy beans. I finally found some this weekend, so it's back on my menu for this week.)
Thursday:
Sloppy Joe's
Green Beans
Potato Chips
Friday:
Lasagna
Salad
Bread sticks
Saturday:
Pizza
Sunday:
Daddy-O cooks, so he decides
Recipes:
Taco Salad
1 lb. ground beef, browned and drained. Add one envelope taco seasoning mix and 1/2 cup water. Simmer until water evaporates. Then add: 1 cup drained kidney beans, 1/2 cup sliced olives and 2 Tbl. Italian dressing mix. Simmer 10 min.
Serve with: Chopped lettuce, diced tomatoes, grated cheddar cheese, diced avocado and your favorite corn chips. Our family also likes to put our favorite salad dressing on top. It's especially good with 1000 Island.
Gary's Chicken
1 cup ketchup
1 cup cider vinegar
1 small onion, peeled
1/2 cup sugar
1/4 cup butter
1 whole chicken, cut up or you can use pieces
In large saucepan, mix all ingredients, except chicken, until blended. Add chicken. Cook over medium heat for 1 1/2 hours, or until chicken is tender.