Twelve years ago I had brain surgery. It was, as you can imagine, a difficult time for myself and my family. One afternoon, a friend of mine brought these bars over to cheer me up, and it worked! I asked her for the recipe and she happily shared it with me.
A few months later, Daddy-O and I took the boys to Salt Lake City for a Jazz game. We stayed with my sister for the weekend and I took this recipe with us. I wanted to bake them up for my sister and her family as a 'thank you for having us' gift. She was delighted.
When we were baking them, we noticed my friend hadn't included the name of the recipe. So my sister, Becky and I decided to name them Jazz Bars, in honor of the impending game. The name stuck and we still call them Jazz bars all these years later.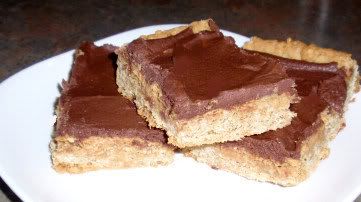 Jazz Bars
3/4 cup butter, softened
3/4 cup peanut butter
3/4 cup brown sugar
3/4 cup sugar
2 eggs
1 tsp vanilla
3/4 tsp baking powder
1 1/2 cup flour
1 1/2 cup quick oats
Blend butter and peanut butter. Add brown sugar, sugar, eggs and vanilla. Add flour, baking powder and oats. Blend well.
Pour into greased 9x13 inch pan. Bake at 350° for 20-25 minutes.
While warm, spread 1 cup whipped peanut butter over surface. Cool completely and frost with:
1/2 cup shortening
1/2 cup butter, softened
4 cups powdered sugar
3 TBL milk
1 tsp vanilla
3 TBL cocoa
Beat well until smooth.
Note: I usually make a different chocolate frosting recipe. Just use one you like best.
I realize this recipe is loaded with butter. That's why it tastes so good!