A couple years ago, as I was driving down Main Street in the town where I live, I saw a car with a vanity plate. The plate said " ILVECKE". I'm not positive, but I think it said, "I love cake." Right?
Well, I fell in love with those plates, because no one loves cake more than I do. I could eat it for breakfast, lunch and dinner every single day of the year! I love all flavors, fillings and frostings. It doesn't matter if the cake is single layer, double layer, triple layer or even cupcake. I love them all.
Forgive me for bragging when I say, I can make a pretty mean cake. Moistness is my game. However, decorating? Not so much. I stink at that part of the process. I leave that to the professionals. You know. The amazingly talented artists that create cakes like this one.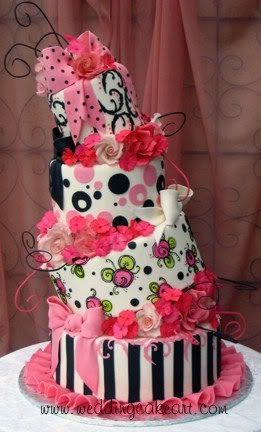 It looks too good to eat, right? Wrong! Let me at it!
I guess after all this chatter about cake, you won't be surprised to know I love the Challenge's on Food Network! Especially, I love the cake challenges.
There is a lot of love in this post. It's just the way I am. I love.
I recently discovered
Food Network's Challenge: Last Cake Standing
. Have you been watching? It is their first ever elimination style challenge. Six Challenge all-stars are competing for a top prize of $50,000! For four wonderful weeks, we are lucky enough to watch the all-stars create, cry and rejoice in their cake decorating tests. They are friends and enemies of each other and the judges. It's pure pleasure, I tell you.
The finale is this coming Sunday. All the cool people will be watching.