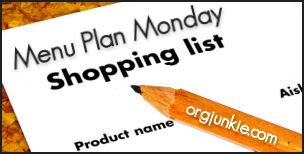 I love Menu Plan Monday. I haven't participated for the past few weeks and I can honestly say it's made meal preparation difficult. I spend less money and less time in the kitchen when I plan my meals in advance.
Monday:
Chicken Divan
Rice
Tuesday:
Cabbage Rolls
Salad
Wednesday:
Navajo Tacos, recipe below
Thursday:
Sausage Gravy
Scrambled Eggs
Biscuits
Friday:
Oven Fried Chicken
Mashed Potatoes
Steamed Vegetables
Saturday:
Flat Iron Steak
Twice Baked Potato
Salad
Sunday:
Daddy-O cooks, so he chooses the meal
This is our favorite Navajo taco recipe. The fry bread is wonderful and really makes the meal.
2 cups flour
2 cups corn meal
2 Tbl. baking powder
1/2 Tsp salt
1 3/4 cups water
2 Tbl vegetable oil
2 Tbl sugar
Mix together all ingredients to make soft dough. Let rest for 15 minutes. Using small amounts of flour, knead dough until smooth and elastic. Let rest 15 minutes.
Pull off piece of dough, roll to 1/4 inch thickness. Make a slit, through the top layers of the dough. It shouldn't go all the way through. This is to help it fry faster, and avoid large air pockets. Fry both sides in hot oil. Drain on paper towels.
Recipe makes 10 to 16 depending on size of fry bread.
We top with refried beans, taco meat, shredded cheese, lettuce, tomato, olive and avocado.
If you'd like more menu ideas and recipes, be sure to visit
here
.