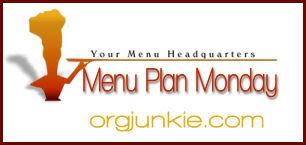 It's that time of the week again when I sit down and plan my family's dinner meals for the week. Last week went a bit haywire on us, so we have three meals to carry over from last week's plan.
Monday:
Crock pot Barbecue Ribs
Pasta Salad
Deviled Eggs
Steamed Vegetable
Tuesday:
Oven Fried Chicken
Buttered Mashed Potatoes
Steamed Vegetable
Wednesday:
Sausage Gravy
Biscuits
Scrambled Eggs
Thursday:
Grilled Flat Iron Steak
Twice Baked Potato
Green Salad
Friday:
Pizza Braid
Leftover Salad
Saturday:
Dinner out for Gus' birthday. My gosh. My baby is 18!
Sunday:
Daddy-O cooks so he chooses what to fix
For more menu ideas, visit Laura at
I'm an Organizing Junkie
!