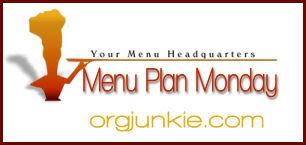 I am not in the mood to cook this week, so I guess we'll have cereal every night. I wish!
I wasn't going to make a menu plan this week but decided this morning I'd better, or we really will be eating cereal or tuna fish sandwiches every night. I'd be fine with that, but I doubt Gus and Daddy-O would be.
Monday:
Easy Chile Relleno Casserole
Green Salad
Tuesday:
Fish Sticks
French Fries
Steamed Vegetable
Wednesday:
Chicken Nuggets
Rice Pilaf
Steamed Vegetable
Thursday:
(For the third week in a row, because we have yet to make this meal):
Flat Iron Steak
Twice Baked Potatoes
Deviled Eggs
Steamed Vegetable
Friday:
Teriyaki Chicken
Fried Rice
Saturday:
Pizza
Sunday:
Daddy-O cooks, so he chooses what to fix.
Teriyaki Chicken
Equal amounts of soy sauce and sugar
Chicken pieces
I mix the soy sauce and sugar together, then pour over the chicken. Bake at 350° for an hour, basting every ten minutes.
For one whole cut up chicken, I use 1 cup soy sauce and one cup sugar. I'm sure you could use less sugar. I use the whole cup because it produces a wonderful glaze on the chicken.
For more menu ideas be sure to visit Laura at
I'm an Organizing Junkie!