In Blogland, everywhere you look, you'll see posts raving about lemons. There are lemon recipes galore. You will see main dish recipes and dessert recipes all using wonderful, fragrant lemons.
I too, am a lemon freak. I made Marine Boy promise if he buys a house in California he will have a lemon tree in the back yard for his momma. While I would hate for him to live permanently that far away from me, it could be worth it for the free lemons! They are so expensive in the grocery stores here.
When I am lucky enough to find lemons on sale, I love to make lemon meringue pie or lemon bars. But my favorite lemon recipe is one I found in Taste of Home magazine for a layered lemon dessert. You can find that recipe
here
. It is summer in your mouth! It's a lot of work, but they payoff is huge.
When I'm not able to find good lemons at a good price, I still get my lemon fix with Lemonheads!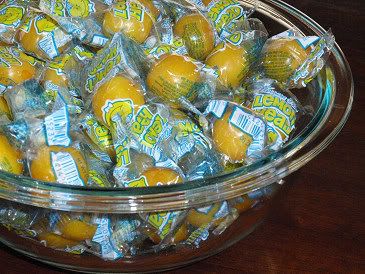 I love Lemonheads. I do. I love them! I
bought
a bulk box online two years ago. My boys and I have been eating our way through the hundreds of pieces of candy that came that day. I am down to this last bowl and it makes me sad. I don't know if I'll order them again as it will be just me at home who likes them.
Who am I kidding? Of course I'll buy them again! Life is not worth living without Lemonheads!