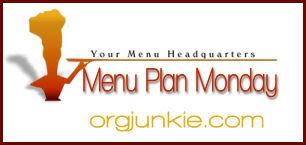 To make my menu plan for the week, I went shopping in my freezer. I have always had a nicely stocked freezer so there was always something for my growing boys to eat. I realized today, I really don't need to keep all that food around anymore. It would just go to waste. So it's time to cut back on stocking and buying.
I guess it's one of the few nice things about being an empty nester. Sniff. Sniff.
Anyhow, here's the plan for this week.
Monday:
Baked Salmon Filet
Brown Rice
Fresh Green Beans
Tuesday:
Tacos
Wednesday:
Crock pot barbecue ribs
Fried Potatoes
Corn on cob
Thursday:
Baked Chicken Breast
Buttered mashed potatoes
Steamed peas
Friday:
Homemade Pizza
Saturday:
Dinner out!
Sunday:
Daddy-O cooks so he chooses
For more dinner (and some breakfast and lunch) ideas, head on over to
I'm an Organizing Junkie!