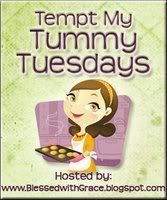 One of my favorite pastimes is to search for new recipes. I get bored eating the same things over and over. Recently, I found Tempt My Tummy Tuesday. If you can't find me on Tuesday, I will be sitting here at my computer, reading all the recipes that are shared. You really should hurry over and find something new to fix for dinner tonight. Your family will thank you.
It only seems fair, if I'm going to take a recipe, I should share one. This is my all time favorite chip dip, although it's so good I sometimes sneak a spoonful out of the refrigerator! Shhh...don't tell. No one knows.
Water Chestnut Dip
1 cup mayonnaise
1 cup sour cream
¼ cup minced onion
¼ cup dried parsley
1 cup finely chopped water chestnuts
2 teaspoons soy sauce
pinch of salt
Mix everything together well. Refrigerate 60 minutes before serving.
Just click on the banner to find more terrific recipes!