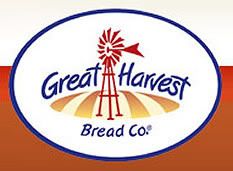 I needed bread in the house. I was going to the grocery store and thought about picking up a loaf there. But instead, I decided to treat Daddy-O and I. I went to
Great Harvest
instead.
Gosh, I love walking into that store. It smells wonderful and the workers are so friendly. I am always greeted and I appreciate that. Kudos to their customer service.
I looked over all the bread variates they had available today. They had the traditional loaf of white bread as well as honey wheat. There was another wheat bread with pumpkin seeds sprinkled on top. I believe the pumpkin seeds were baked into the bread as well. There was nine grain and sourdough as well. Wouldn't you know I chose what I always chose, honey wheat. I'm not very adventurous.
Daddy-O loves the honey wheat. So do I, but that's not the real reason I went to
Great Harvest
today. I went for the sugar cookies.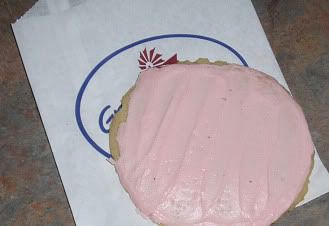 As
The Pioneer Woman
says, "Lawsy Mercy". I love the sugar cookies. They are large, flat, sweet and very appealing circles of yum. They are crispy on the outside, while being soft on the inside...and the frosting. Oh. My. Word. Heaven!
If you've never had a sugar cookie from
Great Harvest
, then hurry in. If you don't happen to have a
Great Harvest
in your neighborhood, I think I'd plan a vacation to find one. It is worth the plane ticket. I'm serious.
You'd think I was doing a commercial for the bread store in question as many times as I've said their name. I'm not. I just really want to share the most wonderful cookie God ever directed someone to create.
I'm nice like that.