When I was in Jr High, I remember going to the High School Homecoming parade one autumn afternoon. I wondered if I would ever be old enough to go to high school and be a part of such fun times. Time moved a lot slower back then.
The homecoming parade was always held on Main Street. We would go early so we could have a good place to stand, or sit on the curb. I always felt pride in my little town for the amazing floats that made up such a thrilling parade.
The years went by and suddenly I was a senior experiencing my own homecoming. I was president of the Nike club that year. Nike is the goddess of victory. We were a girls service club. My best friend, Shelley was the Pep Club president. We were each in charge of floats for our clubs.
I can't remember what those floats looked like. All I remember is yellow paper napkins and backaches. But I do know our floats were amazing. No one had more school pride than Shelley and I did.
That spirit still burns. My sons went to the same high school I did but didn't develop the same feelings for the school as I had. When PJ went to his first varsity football game his freshman year, I cried tears of joy. It meant so much for me that my son was going to the same school I did.
He was not amused.
Today I live in an even smaller town and I had the pleasure of going to the homecoming parade this afternoon. It was great fun. The whole parade lasted about eight minutes. It was the best eight minutes I've had in weeks.
Unfortunately, I arrived too late for the best seats. This explains why you're seeing the backs of heads in these pictures. Although, occasionally someone would turn around and I was able to capture a face.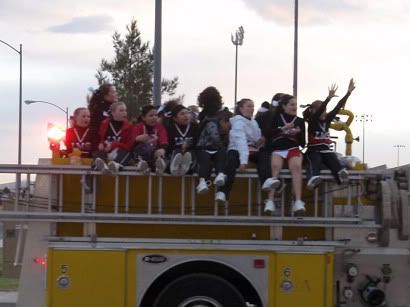 Cheerleaders on a fire engine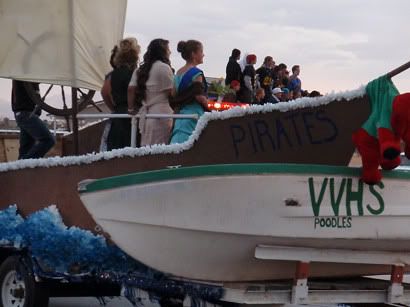 Royalty on one of the floats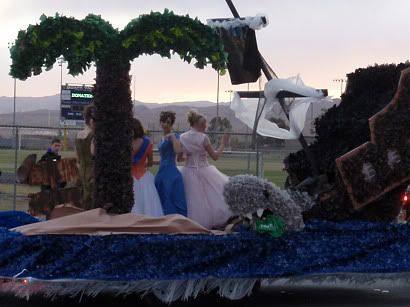 More roalty on a different float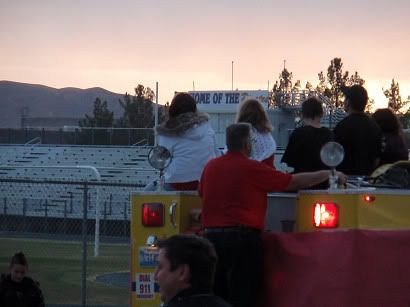 More students on a different fire engine (that's my big brother standing on the back!)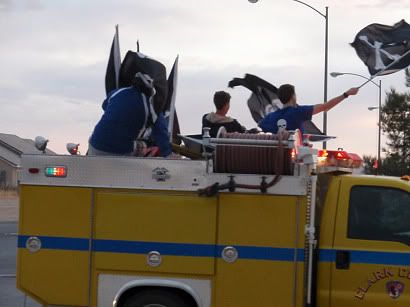 More kids on a yet another fire engine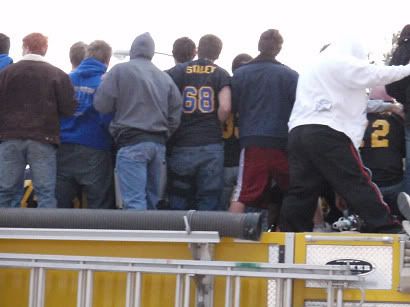 And finally, some kids on a fire engine
I love small towns.