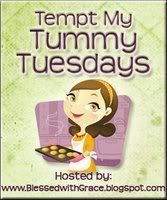 It's been so long since I have shared a recipe on Tempt My Tummy Tuesday. It's my favorite day of the week because I find tons of fun new recipes to try. But I feel guilty taking and not sharing so I thought I would finally jump in and share again this week.

I've only made this recipe once, but it is a winner. I like it both because it's quick to put together but also because it's so tasty.
Peanut Butter Swirl Brownies
1/2 cup butter, softened
2/3 cup sugar
1/2 cup brown sugar
2 tablespoons milk
2 eggs
3/4 cup flour
1/2 teaspoon baking powder
1/4 teaspoon salt
1/4 cup peanut butter
1/3 cup cocoa powder
1/2 cup chocolate chips
1/3 cup peanut butter chips
Combine butter, sugar and brown sugar. Add milk and eggs. Mix well. Stir in flour, baking powder and salt. Divide mixture into two bowls.
To one bowl,add peanut butter and peanut butter chips. To the second bowl add cocoa powder and chocolate chips.
In greased 9 inch pan, put 8 mounds of chocolate mixture and 8 mounds peanut butter mixture in checkerboard pattern. Use knife to swirl. Bake at 350° for 25-30 minutes or until done.
For more awesome recipes be sure to visit
Blessed With Grace
for
Tempt My Tummy Tuesday
.