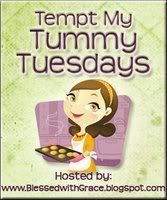 When I lived in my home in the mountains, I loved this time of year. I am one of those people who loves the cold air and snow. One of the first dishes I would make when the season started to change was Chop Suey. It's a perfect cold weather meal. While it's still fairly warm here in the desert where I am now living, it's still fall and I still want Chop Suey.
I realize there are a million different ways to make this dish. But I like to make it as my grandma did. The first time I remember having it was at her house, in Illinois. I was in my early twenties and I flew by myself out to visit her and my grandpa. I remember eating until it hurt the first night she served this. I'm not sure how, but there were leftovers so I enjoyed them the next day too. I just couldn't get enough! I certainly miss my grandparents, Leo and Alice. I like to think they're looking down on me when I make this.
To me, Chop Suey sounds like it should be Chinese food. But this recipe is no where near that. I have no idea what original Chop Suey is, but I don't care. This is the only version I'm interested in.
Chop Suey
5 boneless pork chops
1 onion
3 stalks celery
10 white mushrooms
1 tablespoon vegetable oil
2 tablespoons butter
2 cans bean sprouts, undrained
4 tablespoons bead molasses, or to taste
1/3 cup soy sauce
1 can chicken broth
1/2 cup water
2 tablespoons cornstarch
salt and pepper to taste
To prepare: Cut pork into large cubes. Slice celery on the diagonal. Slice onion into long slivers. Slice mushrooms into large chunks. Open cans of chicken broth and bean sprouts. Mix cornstarch into water.
Add butter and oil in large pan until hot. (Note: I use a 5 quart dutch oven with I make this) Add pork and brown. Then add onion and celery and cook until tender. Add mushrooms, chicken broth, soy sauce and bean sprouts. Add bead molasses to taste and stir. Taste for balance of sweet and salt flavor, adding more soy sauce or bead molasses to balance flavor.
Cover pot and simmer for at least 1 hour, stirring often.
We like to serve with steamed rice, or chow mein noodles.
For more tried and true recipes, be sure to visit
Tempt My Tummy Tuesday
.