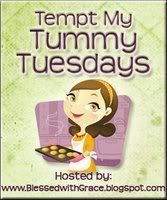 This is one of those recipes I liked to use when I was having a busy day. I could put it together in the morning, then refrigerate it until just before dinner. Then I'd pop it in the oven, heat it up and have dinner in a flash.
Not only is it simple to make, but it's also delicious.
Chicken and Dressing Casserole
1 1/2 cups cooked chicken
1 can cream of chicken soup
1 cup frozen broccoli pieces
2/3 can milk
one box stove top stuffing, prepared
Cut chicken into small pieces and place in 9x13 inch pan that has been lightly sprayed with cooking spray. Put broccoli over chicken. Mix soup and milk, then spread over broccoli and chicken. Top with prepared stuffing. Bake 40 minutes at 375°
Note: I usually used a smaller casserole, 9x11 inch. I find the 9x13 inch pan to be too large for a single recipe.
For more delicious recipes visit
Blessed With Grace
for Tempt My Tummy Tuesday.