I've know I've been MIA for a few days. We had a big Halloween party for the exchange students in the area last night. Because my brother and his wife don't do anything on a small scale, the preparations were huge. It took three days and too many trips to the grocery store to get the house ready for our rather large trick or treaters.
There were spider webs of every color, scary skulls, fake blood and even a crystal ball to greet the guests. There was also more food than a group twice as big could have eaten.
Most of the kids didn't know each other before they arrived, but you wouldn't have known it the way they got along. They all became fast friends with plans to meet again soon. Brazil, Sweden, Austria, Germany, China, Italy, Chili, and The Netherlands were represented. It was fun to hear the accents and the stories they all shared.
Some of the kids dressed up. The best costume was one of the Three Amigos. I'm telling you, that costume could have been from the movie itself. It was amazing! The girls of course, were all witches. That made me laugh. I even managed to wear a tutu and some fairy wings for about ten minutes! Sorry folks. There's no picture of that. HA!
Even the dog dressed up.
Everyone was exhausted by the end of the night. We didn't even clean up. We all just went to bed and enjoyed the extra sleep the ending of daylight savings brought us.
I know it's a little late, but I wanted to share my favorite recipe from the night. It could easily be adapted for any holiday. Or just have it any day. It's that good.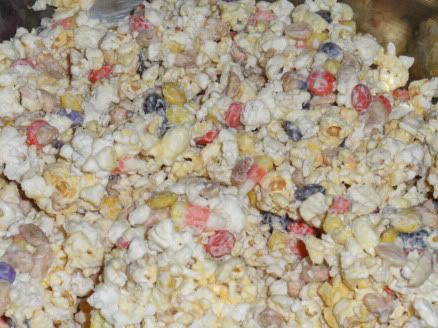 Monster Munch
1 lb. white almond bark, melted
12 cups popped popcorn
1 cup candy corn
1 cup dry roasted peanuts
1/2 cup reeses pieces
Put the popcorn, candy corn, peanuts and reeses pieces in a bowl, then pour the melted almond bark over the mixture. Stir until it's all combined, then spread on a cookie sheet and cool. Break into pieces and enjoy.
I don't usually enjoy popcorn mixes, but I couldn't keep my hands off this stuff. It was amazing! I hope you'll give it a try. Your mouth will thank you. I promise.
(Now please excuse me while I leave a message for one certain person : See. I can speak spanish. Now pick me.)