You might have heard there was a mass shooting at Fort Hood in Texas today. The news is fresh and details are still unknown.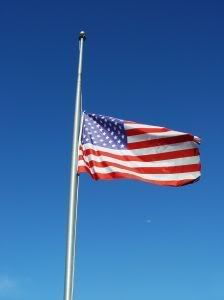 What we know right now is at least 12 people have been killed with many other injured. Tears pour down my face as I listen to it all unfold on the television. It is disgusting when this happens to anyone, anywhere. But the fact that is happening on a military base is beyond belief to me.
We all respect the service the military does. We know they have offered their lives to protect us. We thank them for that. Each and every one of us should realize we owe our own lives, as we know them, to these brave men and women.
It makes me sick to think each of these people probably felt very safe when they woke up this morning and prepared to start their days. Many have served in current and previous wars and know the uncertain feelings of being in hostile territory, but their own neighborhoods shouldn't feel the same way.
I will be listening to the news for the rest of the day. I hope they will be able to find who is responsible for this horrifying event. Today I will call my own boys and let them know how much I love them and how proud I am of them and their willingness to serve. Because I'm their mom I will also tell them to stay safe. But this time, it will have more meaning.
Please keep the families of those involved in your prayers today. To lose their loved ones in war is one thing, but to lose them in such a senseless way is a whole other thing.