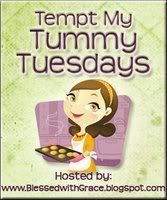 Yea Hooray! It's
Tempt My Tummy Tuesday
and you all know that's my favorite day!
I think we're all aware Thanksgiving is approaching quickly, then just after that is the Christmas season. It's time to start making plans for the Holidays and part of those plans will most likely include making goodies. I thought since I am not living in my own home and will miss out on the fun of preparing cookies and candy this year, I'd share some of my favorite recipes with you.
Each week during the Holidays, I will share one of my familys favorite Christmas recipes. It's my way of sharing a virtual goodie plate with all my cyber friends. I hope you'll find something you'd like to try.
Turtles
For caramel:
1 cup butter
2 ½ cups brown sugar
1 can sweetened condensed milk
1 cup corn syrup
In heavy saucepan, melt butter. Then move pan to coat with butter. Add brown sugar and stir thoroughly. Add corn syrup, again stirring thoroughly. Over medium heat, stir constantly until mixture reaches soft ball stage (235° on a candy thermometer). Remove from heat and cool a few minutes. Then stir in 1 teaspoon vanilla. Let cool.
Turtles
2 cups whole pecans
2 cups chocolate chips
Toast pecans. Melt chocolate. On a buttered cookie sheet arrange pecans in turtle shape, drop spoonful of caramel onto the pecans. Chill. Top with melted chocolate. Chill until completely set up.
Note: When my mom makes turtles she pours the caramel into a buttered dish then lets cool completely. She will then cut the caramel into squares and pushes the pecans into the caramel to form the turtle. I think this is an easier way to make the turtles so that's how I do it too! Also, we only use two pecans per candy. I know the traditional turtle shape is gone, but it tastes just as good and since we use less pecans it saves some money too.