After spending several days overwhelmed with grief for the life I've lost, I needed a pick me up. I got it when my little sister, Becky came to spend a couple days with me. We were on a secret mission we were both excited about.
Another sister, Valerie got married in Las Vegas Friday. It was a secret wedding and Becky and I were the only guests. We were thrilled to be invited. No one deserved a special day more than Valerie. She has been through some really rough times and has finally found happiness with her new husband.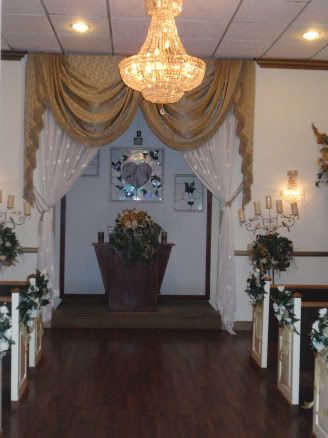 The Chapel
She has wanted to be married in a Vegas wedding chapel and she got her wish. Becky and I met Val and her soon to be husband at their hotel room to help her prepare for the big moment. I've never seen a happier bride. She was absolutely silly with happiness. It did my aching heart good to see her that way.
To tell the truth, there really wasn't that much to do to get her ready because they chose to have it stay very casual. Everyone wore jeans but me. I wore a pair of capris. There was no special hair or make up. Although Valerie was sporting a nice pair of heels and spent an hour or so practicing walking on them. She was so funny.
The ceremony was short, less than ten minutes. The minister was goofy and the flowers were ugly. But all of that didn't mean a thing. Val and Dale, her new husband, were completely wrapped up in each other. They even shared a kiss on the way down the isle. It annoyed the minister and that made Becky and I laugh. It was a perfect wedding, though I wish Elvis could have walked her down the isle.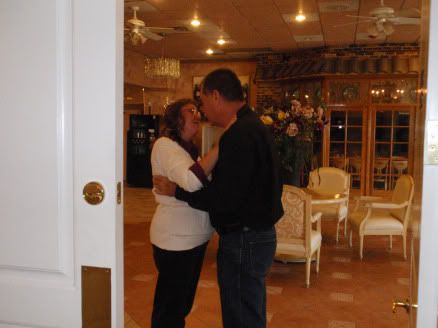 Valerie and Dale immediately after the ceremony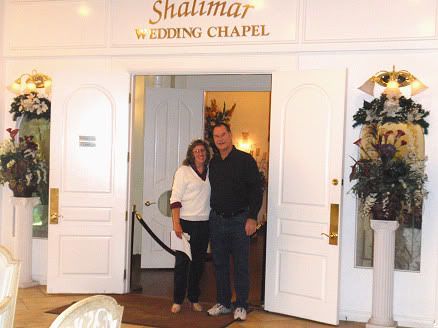 Standing outside the chapel. They did it!
I really struggled to hold back the tears. I was feeling so much sadness of my own but didn't want to ruin their day. Luckily, it's okay to cry at weddings. It's even encouraged. I think the all out sobbing I wanted to do would have been a bit much, so I kept it to a minimum.
After the wedding they treated Becky and I to dinner at Red Lobster. It's one of Valerie's favorite restaurants. Mine too. I ordered crab alfredo linguine and filled up after about three bites because it was so rich. But that didn't stop me from sampling one of Becky's coconut shrimp! It was delicious and I'm anxious to order it when I go again.
Those few hours with my sisters were so fun and I was sad when it was over. Beck and I thought we should turn the lovebirds loose so they could have some special time to themselves. They seemed grateful. I think there was something on television they wanted to watch. wink. wink.
Becky decided she'd come all the way to Vegas and she didn't want to leave so soon, so we decided to drive down the strip. Neither of us had done that in years. It took us forever to get there because of several wrong turns, but when we did we found once down wasn't enough. We made several trips up and down the famous road. It did not disappoint. I was glad Becky was driving because there is so much to see and I was able to soak it all in.
I am back home now. I was sad to say goodbye to my sisters. Being with them was what I needed. I feel more hopeful that maybe there is someone out there for me who will love me and cherish me the way Dale does Valerie. She is so lucky.