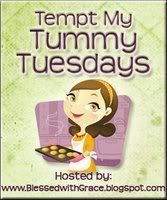 Okay so I'm a little bit embarrassed to be writing after I announced (for the third time) I would be taking a break. Just call me Micheal Jordan...or Brett Farve!
I have a good reason for breaking my silence,
Tempt My Tummy Tuesday
!! I just have to share my family's favorite Christmas dessert. We would have this every single year on Christmas Eve.
I wish I had a picture to share with you. It's so pretty and Christmas-y. Use your imagination. Then make it for yourself. I'm positive your family will love it more than mine does.
Christmas Dessert
Crust: 2 cups flour, ½ cup brown sugar, 1 cup butter, slightly softened, ½ cup chopped pecans
Mix flour, brown sugar and pecans. Cut in butter until butter is in very small pieces and distrubuted evenly throughout mixture. Press into greased 9x13" pan. Bake for 15 at 375°. Cool, then crumble into medium sized pieces. Place ½ of pieces in pan. Save the other half.
Filling:

8 oz cream cheese, softened, 1 tsp vanilla, 1 cup confectioners sugar, 2 envelopes Dream Whip (made according to directions). Blend cream cheese, vanilla and confectioners sugar until smooth. Mix in Dream Whip until smooth and creamy. Spread over crust pieces in pan. Top with remaining pieces.
Topping:
1 pkg raspberry Danish Dessert, small pkg frozen raspberries, thawed. Make Danish Dessert as directed, using ½ cup less liquid than mix asks for. Stir in raspberries. Spread over filling and crust pieces. Chill.
This is still very good the second day, but after that it starts to get soggy.
Be sure to visit
Blessed With Grace
for more
Tempt My Tummy Tuesday
recipes!