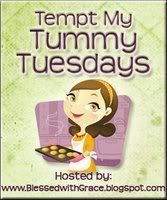 One of my very favorite homemade candies is divinity. I think what makes it so special, other than it's truly a tasty little mound of yum, is that we only make it at Christmas time. I make sure to eat as many pieces as I can because I know it's going to be a long time before I get it again.
My mom made the best divinity ever! Anyone who's ever tasted hers would agree with me. Although, sadly, she is no longer the queen of confection. My sister, Sam has taken over as the master divinity maker. I am not sure what Sam does but it's creamier than my moms. Sorry mom.
They both use the same recipe and one day I'll find the courage to give it a try. For those of you who are already brave enough, I'll share the family recipe.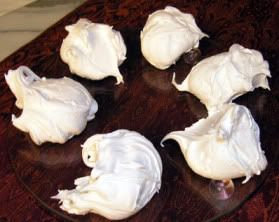 Mom's Divinity
2½ cups sugar
½ cup light corn syrup
½ cup water
In heavy saucepan, stir sugar, corn syrup and water. Then over medium heat, bring to boil and cook to soft ball stage (235°).
While the syrup cooks, beat 2 egg whites until stiff. Beat in pinch of salt.
When syrup has reached soft ball stage, pour half of syrup into egg whites, while beating constantly. Place remaining syrup back on stove and cook to hard ball stage (250°). Add to egg white mixture while beating constantly. Add 1 tsp vanilla at the same time. Continue beating just until gloss is gone and it has set up. Immediately drop by spoonfuls onto waxed paper, or greased cookie sheet. Let set until cool.
Notes: If making the divinity for the first time, it's helpful to have another person avaliable to help. Also, my mom uses her Kitchen Aid mixer to beat the divinity.
Temperatures for soft ball and hard ball stages vary by altitude. For every 1000 feet above sea level subtract 2 degrees from listed temperatures. For extra assurance, we use
the cold water test
as well as a candy thermometer.
To make the divinity more festive, sometimes we add small amounts of food coloring for a light green color.
For more recipes be sure to visit
Blessed With Grace
for
Tempt My Tummy Tuesday
. You'll be so glad you did!