While our boys were growing up, one of our family's favorite Christmas traditions happened Christmas Eve. We enjoyed having family over, then as the night was drawing to a close we'd listen to the story of Christ's birth. Twice. First with reverence using the scriptures, then finally in a fun way...using candy bars!
This uses a lot of candy bars, but I always assigned part of them to the family's who shared the night with us. That way it wasn't that expensive for any of us. It is best for older children who can read. Warning: This is really for the kids, but there always seemed to be a dad or two who liked to sneak in.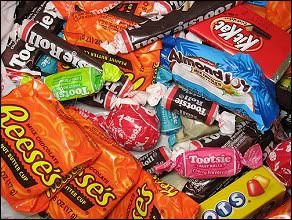 Put the children in a circle on the floor, then place the listed candy bars in the middle. As the story is read, when a candy bar is named, the first one to grab it gets to keep it. I'm warning it. It gets brutal! Ha. But that's what makes it fun.
Please understand this is just for fun. It's not designed to teach the story of Jesus' birth. So enjoy it in the right spirit.
The Sweetest Christmas Story Ever Told
Mary and Joseph were SWEETARTS engaged to be married. One day Joseph said "Mary, you're starting to look a little CHUNKY." Mary explained she was expecting a SPECIAL (special dark) child. "Can we name the BABY RUTH?" Joseph asked. "No," said Mary. "His name is Jesus". Now there went out a decree from Caesar Augustus that all the world should be TWIXed, so Joseph and Mary had to travel to the city of DAVID (sunflower seeds), which was called Bethlehem. It was a very ROCKY ROAD, it was no 5TH AVENUE for sure. Mary was ready to have the baby but they couldn't find anywhere to stay. They even asked one innkeeper if there was any room in the tavern and he just laughed and said, "U-NO You can sleep in the stable with the ANIMAL (crackers) and COW TAILS and maybe a few KIT KATS. So Mary gave birth to the baby Jesus and laid him in a manger.
And there were in the same country shepherds watching their flocks by night. (sing) "The First Noel the angels did say was to CERTS to poor shepherds in fields as they lay." Then the shepherds heard the heavenly SYMPHONY begin to play as the Heavenly hosts began to sing ALMOND JOY to the world the Lord is come. The shepherds were told they could find the baby Jesus wrapped in swaddling clothes and lying in a manager. Now also at this time there were 3 MUSKETEERS, who were somewhat AIRHEADS. Their names were MIKE (n Ike), he was a NERD. And SLIM JIM and ... and... OH! HENRY! Well Mike said "LOOK, what's that bright DOTS in the MILKY WAY?" Jim scratched his head, " I think it's WHATCHAMACALLIT...um...MARS." Mike and Henry started to SNICKER. They realized it was the STARBURST that was to appear when the Son of God was born. They decided to journey to see the child. They also decided to take gifts to the baby. Mike went through his things and decided to give the baby (Cup of) GOLD, so he gathered 100 GRAND. Henry went through his things and decided to give the baby something sweet so he took a little BIT-O-HONEY. Jim went through his MOUNDS of junk and TREASURES but couldn't decide what to give. He couldn't go to the store because PAYDAY was next week and he wanted to give the baby something GOOD and PLENTY of it. The three SKITTLED on their way and as they traveled, Jim kept thinking of something he could give Joseph, Mary and the Baby Jesus. Mike gave his GOLD COINS to the child. Then, Henry offered his BIT-O-HONEY, but when it came Jim's turn he asked if he could hold the baby. "But you're such a BUTTERFINGERs" said Mike. Henry agreed. Mary said she thought it would be all right so as Jim picked up the Son of God he knew what to give. He KISSed the baby and then KISSed him again and again and again. Jim realized the most special gift he could give was love.
Remember...Jesus is the REISEN for the season.
If we were unable to find all the candy listed, we would substitute for a different candy. Then before we started the story we would announce the changes. It was fun to see who remembered and who forgot the changes.