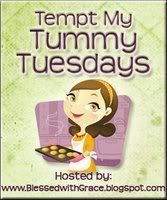 In my old neighborhood, I would get together with several friends once a month for a craft club. We each took turns providing a craft for everyone to make. Each month, it seemed there was an unspoken attempt for the new hostess to outdo the previous hostess, just a bit.
We started with making crafts and before long, not only would we provide a craft but we would make a dessert too. Just before I moved out of the neighborhood, the craft and dessert was becoming a craft and a small meal. I understand now, twelve years later from when our club was first born, it is still alive but there are no crafts or dessert. It's now friends going out for dinner one night a month.
I miss the old neighborhood and all my friends there. But whenever I open my cookbook I remember the good times we shared. I have many cherished recipes from my sweet friends and this is one of them.
This was the first dessert served at craft night. I remember embarrassing myself by eating not one or two, but three pieces. I loved it that much! I always tend to over indulge when it involves lemons.
Lemon Crumb Bars
1 box lemon or yellow cake mix
1/2 cup butter, softened
1 egg plus 3 egg yolks
½ cup fresh lemon juice
1 can sweetened condensed milk
Combine cake mix, butter and one egg. Mix well. Mixture will be crumbly. Press into greased 9x13 inch pan, reserving 2 cups of mixture. Bake at 350° for 15 minutes.
Meanwhile, in a bowl, combine 3 egg yolks, sweetened condensed milk and lemon juice. Spread over prepared crust. Top with reserved crumb mixture. Bake for 15 to 20 minutes, or until set. Cool then cut into bars. Enjoy!
Don't forget to visit
Blessed With Grace
for more delicious recipes!