For years, my mom has been using her age as an excuse for everything: I'm sorry, I can't reach that for you because I'm old. I wish I could make a sandwich for you but I can't because I'm old. If I wasn't so old I'd watch American Idol with you.
Once in a while she'd change her tune... you want to give me twenty dollars? Well I'm not too old for that! Let me just say, it makes me crazy! She pretends not to notice.
Last week, she and her siblings met in Vegas for a fun filled week of prescription bottles and nickle slot machines. My moms sisters are battling cancer. One has breast cancer and the other, I'm not sure. But it's in a very uncomfortable place. Let's leave it at that. Ok? Because I promise, you don't really want to know.
Anyway, they wanted to get together for maybe the last time. My brother and I were invited to go in for dinner one night and I could hardly wait! For me, there is nothing more satisfying than a buffet and conversation about bowel movements and visits to the doctor. (That is sarcasm, folks) Truthfully, I was looking forward to seeing everyone. My Aunts and Uncles are always so happy. It's infectious.
I have pictures to share but I need to add a disclaimer. The pictures are horrible. None of us can take a decent picture to save our lives. Nor can we sing. What we can do is make an amazing gravy out of anything!
Aunt Jan and Uncle Doug. Jan is fighting breast cancer. Doug is a very talented clown. I'm serious.
Doug is married to Carol, below.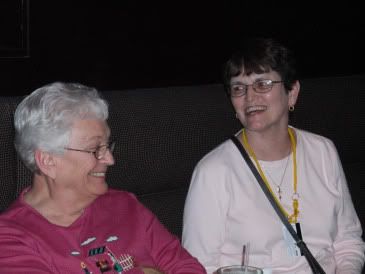 Aunt Joan and Aunt Carol Joan is a retired 'mail lady' and Carol was a nurse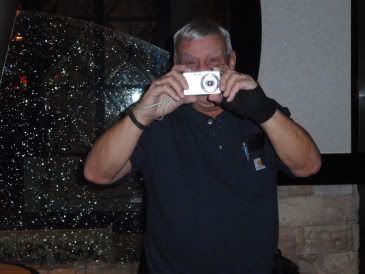 Uncle Bruce...dueling cameras! The happiest person I've ever known!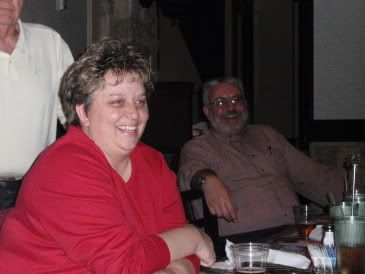 My cousin Jenny and my big brother Jenny drives a short bus, my brother is a teacher.
Jenny is the daughter of Bruce and Marge.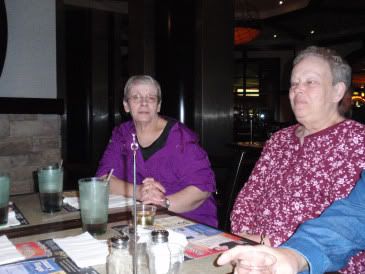 Aunt Cathy and Aunt Jan again. Both are fighting for their lives. Bless their hearts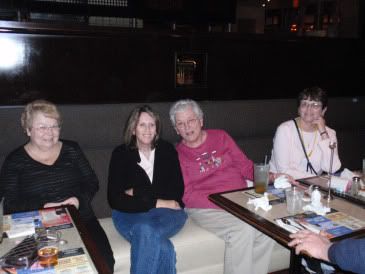 Aunt Marge, Me (my butt looks so huge here!) Aunt Joan and Aunt Carol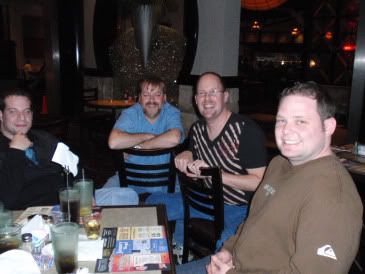 The kid table: Vinnie, Bruce, Garrett and Cody (Bruce is my cousin. The others are friends)
Bruce is son of Marge and Bruce.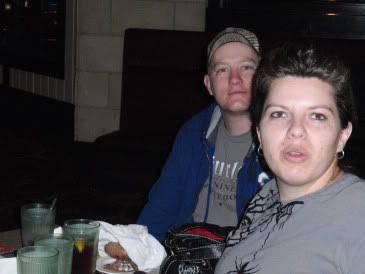 My niece Brittany and her husband, Kedzie. Brittany is the daughter of my brother,
shown above. *Note: I can't believe it, but my mom isn't in any of these pictures. I have
no idea how I missed her. Just imagine her brother Bruce, as a woman, with white hair. That's mom.
I looked around that night at everyone laughing and talking and I realized, my mom is getting older. Before long that will be me. Then I can use the "I'm too old" excuse for my kids. I can hardly wait. (Again. Sarcasm)