Guess what wonderful thing happened today? Just guess. Go on. Guess!!
If you guessed this, then you're right: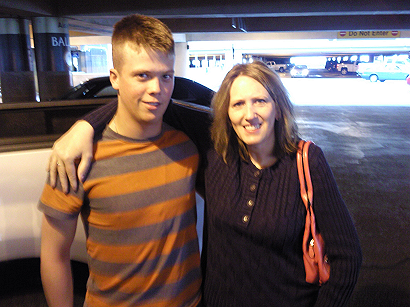 My baby! My son! Gus came home! The very sweet Marine Corps decided he needed to see his mama and she needed to see him. So they sent him home and I got to pick him up from the airport! We didn't tell anyone. So I had several hours with him all to myself.
You can imagine how wonderful that was for me. This boy needed to come home. He has been gone for all the marriage problems, divorce, me moving and now my medical issues. He was feeling so far removed. I missed him. I think we both feel better now.
Of course, he didn't want to hang out with mom the entire day. He got in his beloved car then went to surprise his friends. It was just fine with me! I only want to see him happy again. He's been under so much stress. He told me he felt like he was going to get into trouble. He's so used to the military way, it was a strange adjustment to be home. I talked to him just a little while ago, and it sounds like he's over that! He's having so much fun with his friends.
I have been so blessed through these past months. My life as I knew it is gone. My marriage is over, but God still blesses me. I am so grateful for the good things that keep coming my way. God is good!
PS. I am very well aware that I am in desperate need of a hair cut. All I can say is I'm working on it!