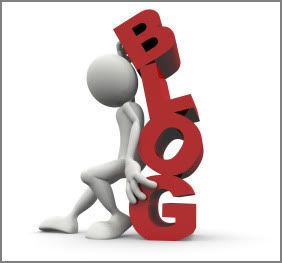 I can't help it! I love reading other people's blogs. I enjoy knowing what someone else is fixing for dinner...or what they created out of candy wrappers to hang on their bedroom wall...or even the amazing thing the husband did that makes him the best husband in the world. I love the new recipes, the favorite poems and the political rants. I enjoy laughing along when the post is funny, or crying when it's touching. I pray for people I've never even met if I know they're experiencing a difficult time.
I was thinking maybe you enjoy other people's blogs as well. Because, well, you're reading mine and I'm sure you're not here for my intellectual views as I don't have any. I don't have a significant other to brag about and I haven't tried a new recipe for ages. If I'm going to be really honest, I've never, ever made a wall hanging from candy wrappers. Ever.
One thing I do have that many of you don't, is time. I have time to find new blogs or websites that might be interesting to you. I found three this past week that I want to share. Two are for fun, and the last one I feel passionate about.
If you follow Ellen
DeGeneres
on Twitter, you probably saw
this
today. Phoebe is a hummingbird who lives in a rose bush in a backyard in Southern California. The owners of this particular rose bush have set up a webcam so we can all enjoy watching Phoebe as she goes about her day. This site is not new, but I hadn't heard of it before, so maybe you haven't either. I spent most today today watching Phoebe and to say I'm enchanted is putting it mildly.
I can't remember how I found
Abby Sunderland'
s blog and website. Abby is a sixteen year old girl who is attempting to be the youngest person to circumnavigate the world in her racing sailboat. She is sailing alone and hopes to complete her voyage without a single stop on land. Her older brother Zac previously held the record for being the youngest person to solo circumnavigate the world in July of last year.
Abby's
website
includes a photo gallery, a map updating her progress and a blog written by her telling of her experience.
Finally, my passion. Mind you this is a passion I've done nothing about , but I feel so strongly about this man's mission and I hope to get you on board too. You may have seen the commericals on televison for
Jamie Oliver's Food Revolution
.
ABC
is showing a 'sneak peek preview' of this new program on March 21. Jamie is wanting to make American's healthier and he's starting with children and the school lunch programs.
I have felt angry about how our school children are being fed for years. I remember when I went to school, we had real food, prepared by real people who cared about us. The food was fresh and nutritious. It was also delicious. I was disgusted with the meals my children were fed when they started school. Gone was the hot meal made from scratch and in was frozen, microwaved lunch that was high in fat and low in nutrients.
I am not pointing fingers at our lunchroom workers. I can't imagine the weight they bear trying to provide meals for children while staying in budget and still follow state or federal guidelines. I believe the problem begins with our lawmakers. I also believe, we parents are also to blame. We indulge our children too much with fast food and convience foods. Soon they refuse to eat healthy. It's a national problem and it needs to be dealt with.
On Jamie Oliver's website, is a
petition
we can each sign, which will be presented to President and Michele Obama after the TV series airs. I've been watching this petition for several days and I'm surprised at the lack of signatures! I am going to assume it's due to lack awareness for this opportunity.
If you feel as strongly as I do, please go here and sign your name. It probably won't solve all the issues but I believe it to be a good start.
Whew! I can't believe I had so much to say tonight! Usually, I sit here and fight for the words to come. I hope you'll get some enjoyment out of my finds. If you run across a fun new blog or website, I would love to hear about it!