Gus left today. It was
so hard
to let him go. I think it was harder for him though. He'll be okay and so will I. I'm more than grateful to have had these days with him. I'll be honest, I can't wait until his days of service are finished and I have both my boys home full time again.
Thank you for your prayers. The friend I spoke of in my last post is doing well...thankfully. It was a very scary experience but now we'll all circle around her and give her the support she needs. I'm truly grateful for your prayers and concern.
PJ is busy with pre-deployment exercises. He will be gone for a few weeks and I'll miss him. He is so good to call every day and check to see if I'm doing okay. I'd better get used to his absence as his deployment date is coming fast.
I need to brag about myself. I hope you don't mind. Since my brain surgery, I've been unable to drive in the dark. I also have been deathly afraid to drive in the city because my reaction time is so slow. Today, I did both those things. I had an eye exam last month and the doctor told me my new glasses would allow me to see in the dark. He was right! I had no choice but to drive in the city as I had to take Gus to the airport. We left before sunrise, then I left to drive home, traffic was heavy. I don't know what came over me, but I was confident and thrilled by the experience. There's no stopping me now! By the way, here's a self photograph, using my cell phone. What do you think about my new glasses?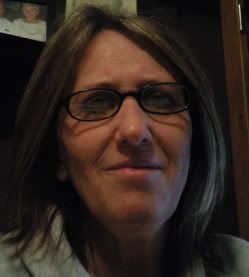 Tomorrow, St Patrick's Day, would have been my twenty second anniversary. I plan to keep myself busy all day so I don't have time to think about how much it still hurts, even though I don't want it to. My head is healing much faster than this heart of mine, I'm afraid. I will be glad when Halloween comes and I've been through all the 'first holidays since'...
I'm off to watch American Idol with the exchange boys. They like to imitate Simon using different accents and it makes me laugh.
Have a fun day tomorrow and don't forget to wear green!