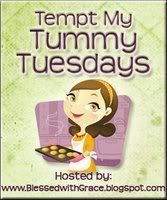 Even though it's been a while since I've participated in
Tempt My Tummy Tuesday
, it's still my favorite day of the week. Nothing is more fun for me, and maybe for you, than to search through others tried and true recipes.
Lately, I've had cake on the brain. I plan to bake one soon, but I can't decide on what kind. Some days, I think it has to be white. Other days, I want chocolate. Since I don't get the opportunity to bake very often, I have to be sure what I want before I get started.
I was looking through my cookbook the other day and found this recipe. Several years ago, Daddy-O and I traveled to Kansas City, MO to spend a week with my Aunt and Uncle. When we arrived my Aunt served this cake and I'm telling you, it was delicious! I hope you'll give it a try. I think you'll fall in love with it too.
Chocolate Angel Food Cake
¾ cup cake flour
1½ cup plus 2 tbl. sugar, divided
¼ cup cocoa powder
1½ cup egg whites, room temperature
1½ tsp cream of tarter
¼ tsp salt
1½ tsp vanilla
Sift flour, 2 tbl sugar, and cocoa; three times. Set aside.
Beat egg whites, cream of tarter and vanilla until foamy. Add remaining sugar, gradually, beating ten seconds after each addition. Continue beating until stiff peaks form.
With rubber spatula, fold in flour mixture a few tablespoons at a time until incorporated. Fold gently to keep air in the mixture.
Pour into ungreased tube pan. Bake at 350° for 40-45 minutes. Invert to cool. Cool completely.
Frosting
2 cups whipping cream
1 cup confectioners sugar
½ cup cocoa powder
dash of salt
Chill a bowl and beaters. Combine all ingredients in the chilled bowl. Beat until thick enough to spread.
Store cake in the refrigerator.
Don't forget to visit
Blessed With Grace
for more yummy recipes!