Only three more weeks until
Malte
and Felix leave to go home. I am dreading it. I honestly do not know how I will be able to stand it here without them. Everything is more fun when they're around.
A few nights ago we all went into Vegas for a special graduation for all the exchange students in the area. Evidently, many of the schools in Clark County don't allow exchange students to participate in the individual school graduation ceremonies. The reasons were explained to me, though I didn't understand them. I was happy an effort was made so those students who weren't allowed to graduate with their class, could have the experience of graduating regardless.
Malte and Felix will be included in their school's graduation so this was a first of two ceremonies for them.
The ceremony turned out to be a lot of fun. It was very informal, which added warmth to it. It started with the students coming out in groups according to the country they came from. Most of the countries represented had two or three students, but Germany had thirteen! After they were seated, we heard from three student speakers then two from the school district and one from the exchange program.
The speakers were entertaining and their talks were short. I especially enjoyed the first boy who spoke. I don't know where he was from but he was so funny. He reminded me a lot of Justin from Ugly Betty, and I adore Justin. His accent was thick so it was hard to understand him at times, which made it more fun. The highlight of his speech was when he told about his first Thanksgiving dinner. He said it was his favorite day in America because of all the food. He continued by listing each dish their family served. It made me laugh.
After graduation was over we stopped for dinner on the way home. One of the boys had been craving a Carl's Jr burger since seeing a commercial on television, so that's where we went. It had been forever since I had eaten there. I was surprised by how much I enjoyed my burger. It was really, really good.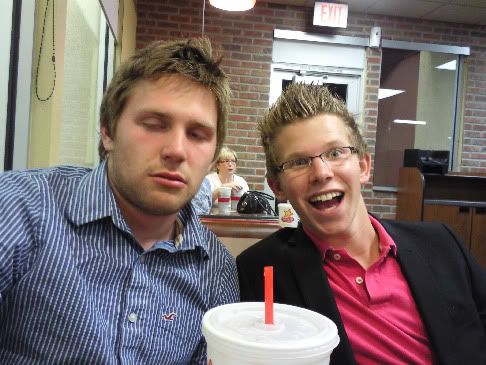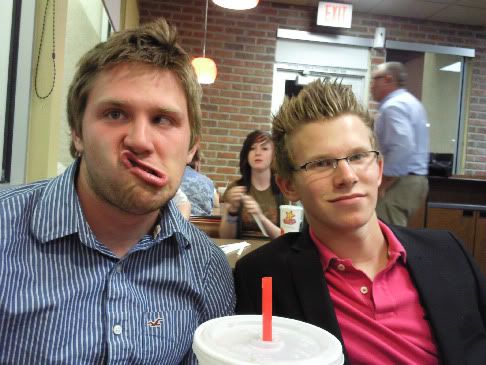 I couldn't get a decent picture of Malte. Usually I blame myself for bad pictures, but this night I blamed Malte. Felix looks good though, don't you think?
There were nine of us, and only four fit at a table so I sat down, intending to eat on my own. I really didn't mind but it bothered Felix and
Malte
so they sat with me. I am glad they did. They were so much fun. Especially
Malte
who decided to be flirty and tease me all night. When a love song came over the speakers, he dedicated it to me. He was just a goof.
On the drive home,
Malte
brought up ESPN for some reason which lead to a discussion about the
Eurosport
channel.
Malte
was saying how terrible it was and that he was going to miss ESPN because he's a huge American football fan. Then Felix chimed in agreeing with
Malte
, but took it further to say late at night
Eurosport
shows adult programming and it 'might be confusing to a twelve year old boy who can't sleep so he turns on the television expecting to see sports and sees something else instead.' He kept going on and on until it became obvious he was talking about himself. Gary and I were laughing so hard, but Felix didn't seem to notice. He just kept on describing how upsetting it might be.
I am truly going to miss these boys. They bring so much fun into the house. It's been great learning about their countries but also watching them to learn about ours. I wish I could adopt them both and keep them around forever. I know my life would be more fun that way.