Thanks from the bottom of my heart to everyone who has commented in the past few days. Your messages have been like much needed hugs. I also want to thank two very special people who contacted to me personally because you were concerned. It meant a lot. I'm so lucky to have the friends I do.
I want to say one thing concerning last night's post. It is important to me to be honest about my divorce and all the heartache that goes with it. I put it out there in case it can help someone else, but it also helps me to have a safe place to write it for myself. I often read back on my posts and I can see I truly have made progress even though it doesn't seem that way to me at times.
My friends are concerned I'm being too hard on myself. I can understand from their view, it would seem that way. I only share so much here. I need to keep the details of the divorce private, because they're personal. I would not want to hurt my children or Daddy-O by discussing the private issues between us. What I write, is strictly my perception of what is happening at that moment and sometimes it's distorted because I don't share everything. Last night my heart hurt in the worst way and I needed to talk about it. It's not how I feel all of the time. Healing from divorce, or any loss, is taken in tiny baby steps. So, please dear friends, don't worry about me. I promise to try to share more of the joyful moments than the painful ones.
Enough about that! My brother in law, Bryan, used to always say, "Lighten up Frances!" I think it came from the movie
Stripes
, but I'm not positive. All I know, is my middle name is Frances and so it would annoy me when he said that! I am going to take his advice and lighten things up around here.
I have found a couple 'new to me' site and I want to share them. Hopefully, they're new to you too and not old news. I tend to be a little late to the party.
It Made My Day
. This is a fun blog where people share stories of funny moments in their day. I always smile when I read these. I hope you do too.
Today I Saw
. A fun blog where Jill shares a simple drawing each day of something she saw. It's so simple. I love it!
Three Letter Word For Art
. This is similar to Today I Saw, but Paul's sketches are quite detailed and incredible!
Awkward Family Photos
. You probably already know about this blog, but I had to include it in case you don't. It's all about hilarious family photos, but it's the captions they add that really get me. This is where I go if I need a pick me up!
This last one is not a blog, but one single post from a blog.
A Little Tipsy
shares a tip for dunking Oreos in milk. It's genius and it will change your life. Or not.
Maybe you'll find at least one thing that makes you laugh from this list. It is past my bedtime so I'd better finish up and get some beauty sleep. After this picture, heaven knows I need it!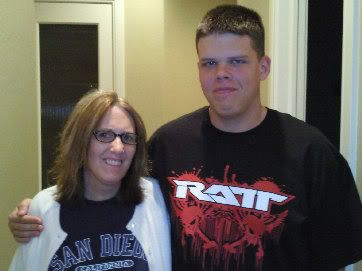 I still cannot figure out why my nose looks like that. Shadows, maybe? I think when my boy returns tomorrow I'm going to insist on another picture of the two of us, so I can prove (to myself) I don't really look like this.