I finally made it back home tonight after an enjoyable five days with my sister and her family. It was the first time I'd visited her hometown and the first time I'd driven across Arizona. It was also the first road trip I've taken with my mom. That's a lot of firsts!
I really surprised myself by how much fun I had. I am one of those people who stress out about leaving home. Well, that's not really true. I stress out when the destination is someone else's home. I don't know why but I hate staying at other people's houses. Just another weird thing about me.
But Valerie, my sister's house was comfortable. So that made it nice. She is so much fun. The thing I love most about Val is her laugh. She laughs easily and often. Everything is more enjoyable when she is around. I on the other hand, don't laugh that much. I say "that's funny" without a laugh or even a smile at times...even if I truly think it's funny. I don't know why that is. I need therapy.
The highlight of my trip was lunch at a local barbecue restaurant and a trip to Starbucks afterward. I always get a vanilla bean frappuccino. I love them. I don't enjoy coffee so getting the vanilla bean drink allows me to enjoy the fun of the famous coffeehouse while overloading on whipped cream. Perfect!
We spent a lot of time camped out in front of the television. Val introduced me to The Big Bang Theory and Psych. I hadn't ever watched them before and now I'm hooked. Oh my gosh, I love these shows! They're so funny!! She was sweet and sent home two seasons of each on DVD for me to watch. Now all I need is a little bit of time and a package of double stuffed oreos then I'll be in hilarious heaven.
The reason for our trip to was attend my nephew Troy's high school graduation. I hadn't see Troy for years and was excited to catch up. Maybe it's because he's a bit of a recluse like me so I relate to him, but I am truly impressed with him. He is sweet, intelligent and driven. There is something about that boy that is really special. He will be attending a music school in the fall and I just know he will go on to do great things.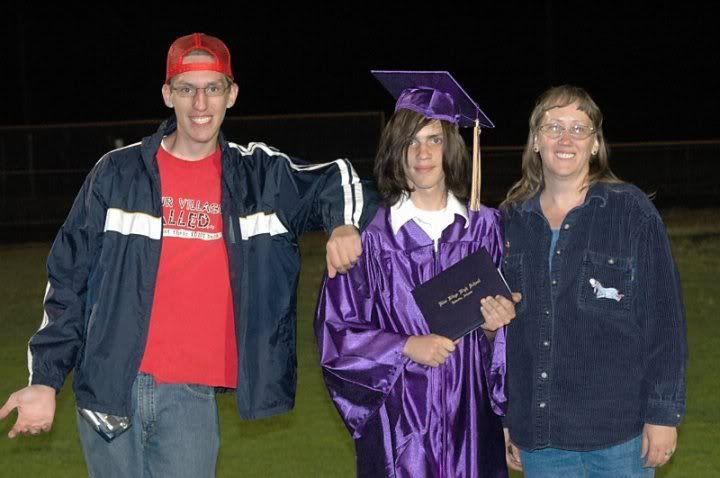 My nephews, Zack and Troy and my sister Valerie
His brother, Zack, is also a sweetheart. Zack is more like his mother and is social so we see him often. He has been accepted to film school and is currently trying to earn money to attend next winter. You hardly ever see him without a camera or camcorder in his hand. He loves to put his recordings in computer programs to make movies. It's always fun to see what he comes up with.
Mom and I drove home today. What was supposed to be a seven hour drive turned into an eleven and a half hour drive. Due to some bad map reading and an unexpected detour our trip was extended by a few hours. My insides were screaming from frustration and lack of sleep, but my outside laughed and enjoyed seeing the sights I hadn't planned on seeing. Normally, I don't have much control over my emotions so I'm pretty darned proud of myself. I enjoyed my mom and we laughed about everything that went wrong.
I was able to visit with Gus today and I got some really good news from PJ too. I guess my day was a good one after all.