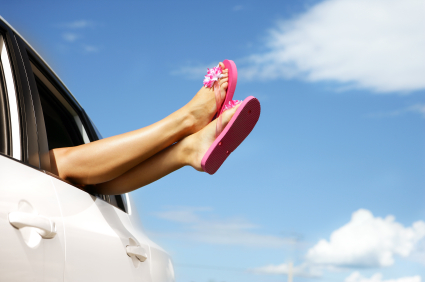 I'm going on a road trip with my mom this week. We are headed to Arizona to attend my nephew's high school graduation. He is a gifted musician and has been accepted to music school. We're really proud of him. It's been several years since I've seen him so I'm really looking forward to it.
As much as I'm looking forward to seeing my sister and her family, I'm not really excited about the long drive. Then when we do arrive it will take time to settle in. Our family tends to take forever to warm up to each other. The first couple of days are awkward then we have loads of fun for the last few hours we're together. My mom blames this abnormality on my dad's side of the family. She claims his entire side of the family behaved exactly like us...or us them, rather.
I am kind of stressed out because I don't have any decent clothes to wear. It's my own fault. I don't believe I look good in anything nice, so I habitually purchase jeans and large T shirts to hide in. Then when I have to go somewhere I freak out because I have nothing to wear. Does anyone else do this?
I'm a little bummed because PJ is being deployed this week. In fact, his cell phone is being frozen tomorrow so I won't be hearing from him again. Because I am unable to be there to see him off, I feel a bit guilty for traveling the same day he leaves. He doesn't seem to mind. I think it's a mom thing. I am afraid I will feel even further away from him since I will be traveling the opposite direction he will be.
I am so lucky because my boy will be safe even if I don't know where in the world he is. There are so many men and women being sent to war that I feel guilty for feeling like I do about PJ leaving. But he is my buddy. He calls me every day just to talk about nothing. Actually, both boys call or text every single day. I'm lucky that way.
I won't be back until Sunday night, so I guess this is goodbye. For now. Take care of yourselves until I return.