Every afternoon my brother brings my mail to me. And, every afternoon I ask him, "is it fun mail today"? He always answers, "don't shoot the messenger." Then we laugh and I open bills.
Today, Gary came in and before I could even ask, he told me it was a fun mail day! I was excited...mostly because he was. Turns out, he got two fun items from eBay. But guess what? I got fun mail too!
One of my most favoritest friends ever surprised me with a fun package! You may know him as "anonymous" and he always adds YTB! (inside joke, obviously) to the comments he leaves here. Anyway, I opened my surprise package (I love surprises!) and inside I found this: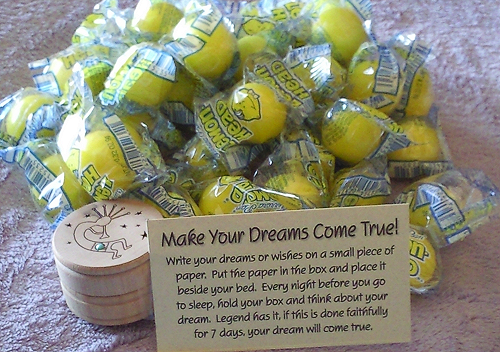 Awww...it's perfect. As you know, I LOVE giant Lemon-heads and I certainly need my dreams to come true! Thanks great friend of mine. You know me too well!
By the way everyone, anonymous is newly married so be sure to wish him well in the comments! I'm sure it would make his day!