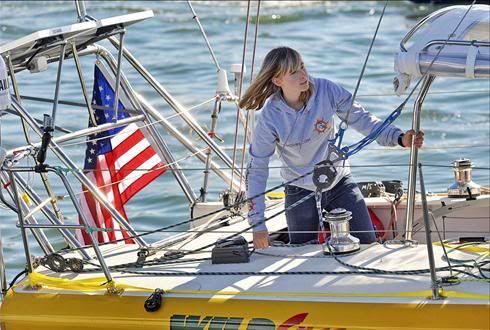 Photo by Richard Hartog, AP
You may remember
this
post when I told you about 16 year old Abby Sunderland. She was trying to be the youngest person to sail around the world alone, without stopping. I had just found her website and was enjoying following her progress. I also subscribed to her blog and loved reading her own words describing her journey.
Unfortunately, her dreams ended last month when she had to stop in (I believe it was) Cape Town, South Africa due to mechanical failure on her boat. She spent some time there as the boat was examined and it was determined everything looked good. She then set sail again.
Sadly today, after some very rough weather, she is feared lost at sea. American Search and Rescue received a signal from her emergency beacon. It was determined the signal was manually activated. Though there are several ships in the area, the earliest contact is 40 hours.
The French, US and Australian authorities are working together to determine the best plan to try to reach her. She has a dry suit, survival suit, life raft, and ditch bag with emergency supplies. The hope is, if she can keep warm and hang on, help will be there as soon as possible.
There is very little update on the situation. I've anxiously checked her website and blog all afternoon hoping for good news. The blog has been taken down, and the website is gone, with only a statement explaining what has happened remaining.
I am truly concerned for this brave girl. I've enjoyed watching her as she attemted to chase her dream. I pray for a happy outcome. She and her family will be in my thoughts and prayers.
If you'd like to read more about Abby you can go to her
website
, or
USAToday
also has a story about her.