I don't have a lot to say. I considered not even writing today, but it's getting too easy to not to. This blog has been amazingly therapeutic for me these past couple of years and I don't want it to fade away just because I'm in a uneventful place in my life.
I'm envious of bloggers who's lives are filled to the brim with crafts, kids, recipes and exciting adventures. It's how my life once was, but I've realized, even if I wasn't divorced and living with family, those busy times have passed for me. My kids are grown so it's natural for things to settle down.
I dream of the day my boys marry and bring children back into my life, but until then, my life is my life and I'm okay with that. I've spent too much time wishing for what isn't. I refuse to do that any longer.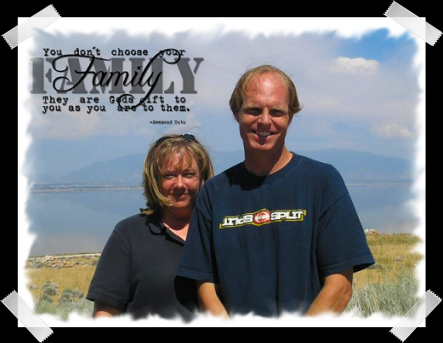 This is my sister, Becky and her husband
I had a long and wonderful conversation with my sweet 'baby' sister this afternoon. She is my confidant and my greatest supporter. I adore her. She told me I'm doing good. She said she can see growth in me. She tells me I'm lovely. Isn't that sweet? She tells me I get more lovely every day. She's proud of me and thinks I'm amazing. Isn't she the best? I don't know what I'd do without her.
My heart is full of love for that girl. She is eight years younger than I, yet she teaches me so much about warmth and loving. Don't say anything to her, but I'm pretty sure she was an 'accident'. Ha! But I will always believe she was a gift to our family, and especially to me. She's seen me through some pretty tough times.
The past few days I've felt nervous. At first I thought maybe something bad was going to happen. Now, I'm wondering if it isn't just me knowing it's time to take another step in life. I need to make some tough decisions and I'm scared to death. No matter what I choose to do, I'm going to have to step out of my comfort zone.
I spoke to PJ today. I've missed that boy! He's only been gone six weeks, but he's my buddy. When he's not deployed, he calls almost every day and he shares all the details of his life, unlike Gus who shares as little as possible. I miss our talks. I hope the rest of his deployment goes fast!
He's considering getting out the Corps when his four years are up next summer. I have mixed feelings about it, but I trust his judgment. I'm not sure what his plans are but I do know he wants to stay in California. He loves it there. It will be nice when he doesn't have to get permission to come home.
On a final note, are you watching The Bachelorette? I don't care how the rest of the world feels, I love Ali. The boards are buzzing, saying she's a great actress and the whole show is scripted. I disagree. I truly believe Ali is there for the right reasons. But, I will admit, they seem to make the best of situations to create as much drama as possible.
I can't believe of all the sweet, genuine guys there, she's fallen for Frank. I knew the first episode he wasn't the one for her! I love Kirk. If only I was twenty years younger...
By the way, the word art I used on the photo of my sister was made by Bethany at Elegant WordArt 2. She shares something new every day so stop by and check her blog out. Be sure to read her Terms of Use before using anything!