I've had lots of rest and I bought new toothpaste and (less expensive) hair conditioner to replace those 'stolen' by the mean airport security guy, so I'm feeling happy again. I'm excited to tell you about my road trip!
We started in Southern Nevada, where we live, on Sunday morning. We drove into southern Utah to pick up Gus' car from my mom's house. I asked my mom to take a picture of Gary and I to commemorate the beginning of our journey. This is the picture she took: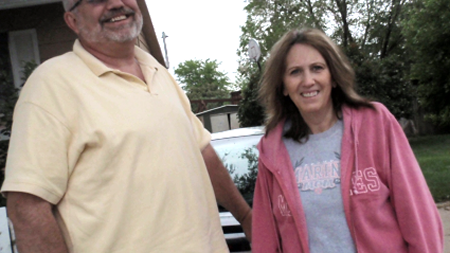 I laughed when I uploaded it to my computer. This proves no one in our family can take a decent picture. But hey! At least I look good, right?
We drove through Utah and most of Colorado that day. I am guessing because it was a Sunday that traffic was light, but we ran into no problems and drove eleven hours that day.
I was born in Grand Jct. Colorado, but my parents moved while I was still an infant. I had always wanted to go back and see it. When we arrived in Grand Jct., we passed a park and my brother insisted we get out to take my picture by a city sign. I was a little nervous, however, because the park was filled with transient looking people. But no one bothered us and I was thrilled to finally have a picture in my birth town.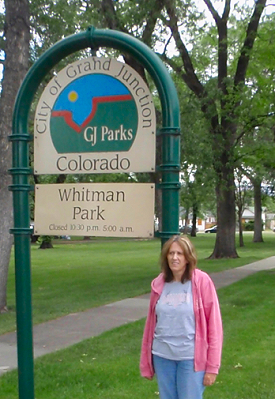 I thought Colorado was simply beautiful. It rained the entire way through and I think it just added to the beauty. It was also quite cold, which I enjoyed.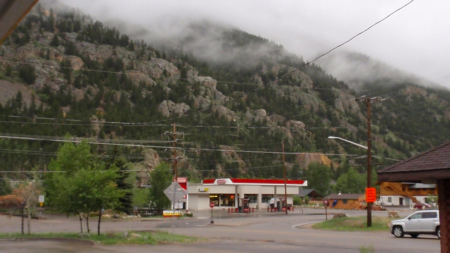 The next day we drove to Kansas City, Mo. My favorite Aunt and Uncle live there and I was excited to spend some time with them. I was so embarrassed when we arrived because I'd told her the wrong day to expect us and we came a day early. I will never live that down! I can't believe it, but I didn't take any pictures of them. Hopefully, I'm going back soon to spend some more time with them so I'll take pictures then.
One of the highlights of the entire trip happened at their house. I saw fireflies!! It has been thirty years since I've had the pleasure. I was truly happy to see those little flashing bugs and it still makes me happy to think about them. I always felt bad my kids didn't get the magical experience of chasing fireflies in their childhood.
The morning we left Kansas City we drove through Illinois. We couldn't resist stopping in Edwardsville, where my dad was born and raised. Neither of us had ever been there and we were both curious. I would have liked to visit the cemetery where my grandparents and dad's brothers are buried, but we really couldn't afford the time. So we were happy just to catch a small glimpse of the town.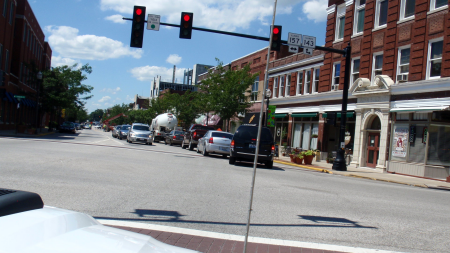 We were also delighted to find a White Castle Burger restaurant, where we stopped for a snack of one tiny burger each. They were very good, but I wasn't blown away. After Gary ordered, the cashier asked his name. He told her, Gary, then she said to everyone working in the back, "everyone say hello to Gary", then they all said "Hello Gary". I loved that!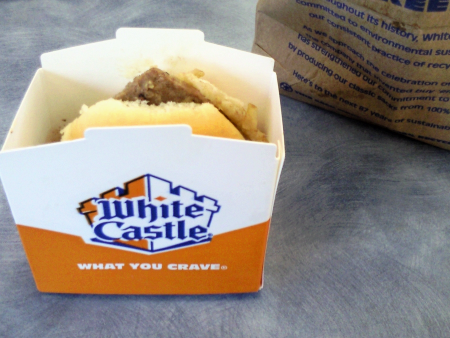 Next, we stopped at a Steak and Shake restaurant to have lunch. Our mom worked at one years ago and she always said they had the best food. I was looking forward to finding out for myself.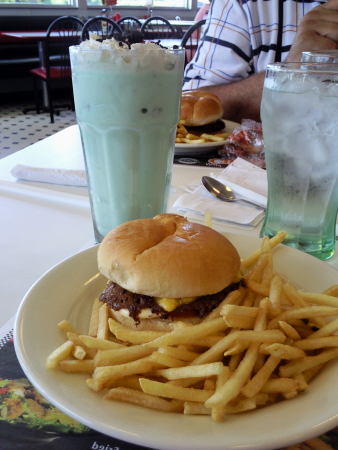 The burger was okay...nothing special. But the fries were the best I've ever tasted. Ever. I can't stop thinking about them! The shake was also amazing. It is a very good thing we don't have Steak and Shake out here because I am certain I would double my weight!
After we ate, we got back on the road and drove to the next town over, Highland Ill, where Gary was born. He was as excited to see his birth town as I was to see mine.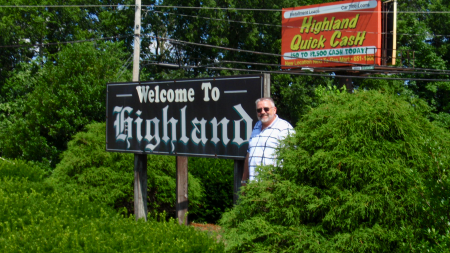 We drove through Indiana, Ohio, West Virginia, Virginia and finally arrived in North Carolina Friday afternoon where this sweet boy was waiting for us.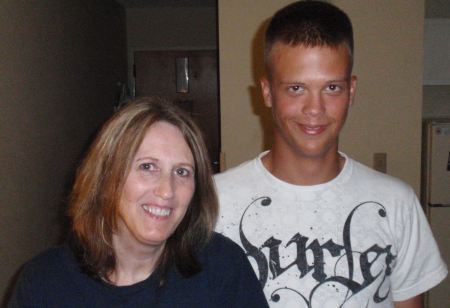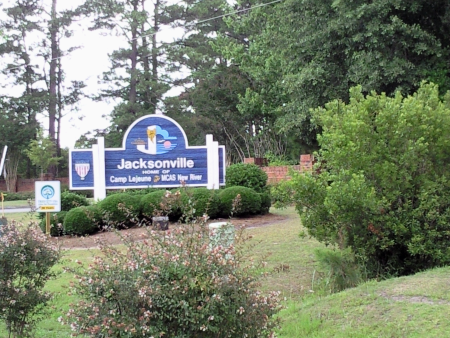 We stayed the weekend, where he spent most of his time sleeping on my bed in the hotel or hugging me. It was perfect. Saturday, we drove to the beach so Gary could see the Atlantic Ocean. He said it was on his bucket list, so of course we had to do that for him! It's the least we could do after he drove me across the country.
It was so hot at the beach so we only stayed long enough for Gary to get his feet wet.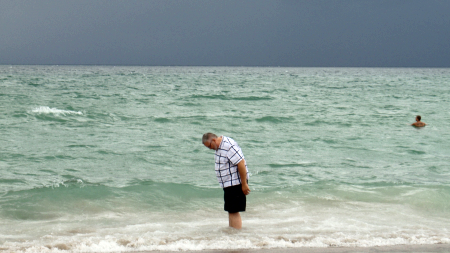 Then Gus and I had our customary beach picture taken. I just noticed I'm wearing the same shirt I had on the last time we were at a beach. Isn't my boy handsome?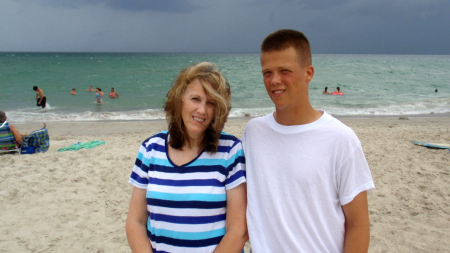 On the drive back from the beach we noticed a vegetable stand advertising boiled peanuts. Before we even left Nevada I had declared I wanted to see fireflies and eat boiled peanuts, so of course we stopped. I cannot even begin to tell you how much I enjoyed them.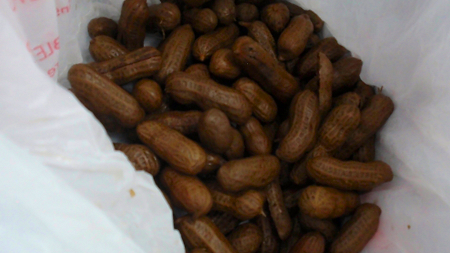 We finished our stay with by having dinner with Gus and his best buddy. They will be lifetime friends and have each others backs. I'm grateful Gus has a friend like that. It brings me a lot of peace.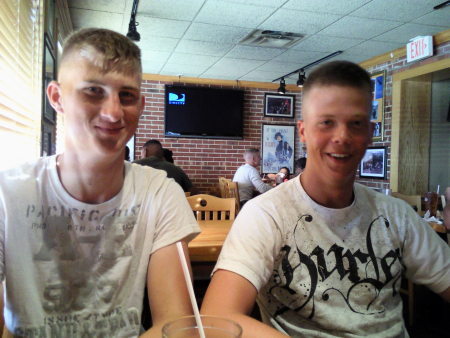 I was sad to say goodbye to Gus, but I am so grateful I was able to visit him where he lives now. It's nice to see the people and places he talks about so often. I miss my boy!