When Gary and I started our on our cross country adventure, we both had a list of things we wanted to see or do. For instance, we each wanted to see our birth towns and we also wanted to eat at Steak and Shake. I desperately wanted to see fireflies and eat warm boiled peanuts from a road side stand. Gary wanted to put his feet into the Atlantic Ocean. He also wanted a magnet from each state we visited for his collection.
I don't know how we did all that in the few days we traveled, but we were able to cross every wish off the list. All but one, that is.
You see, I may have mentioned before, we lived in Athens, Georgia as kids. Our dad was both attending and teaching at UGA. He was working on his doctorate degree and almost had it finished when he passed away. I was eight. Gary was twelve. Mom made the decision to move us out west, where we had lived prior to Georgia and where she had a network of friends for support in raising five small kids.
I've always remembered those years in Georgia as my happiest. I have wonderful memories of being a carefree, happy kid there. After Dad died, much responsibility fell on my and Gary's shoulders as we were the oldest children. Gone were the carefree, happy days. Mom did her best, but that's another story.
I was excited when I realized we would have a layover in Atlanta. I knew we wouldn't have time to leave the airport, but just being in Georgia meant so much to me.
A couple of years ago, I was watching an episode of What Not To Wear. They had a girl on who was from Atlanta. In one of the scenes she was wearing a Georgia Bulldogs sweatshirt and I fell in love with it. It simple said "DAWGS". I've spent so much time searching the internet for a sweatshirt just like it, but I've never been successful.
I told Gary, when we got to Atlanta, if there was a DAWGS sweatshirt in that airport, I was buying it no matter what it costs. I was disappointed to not find one or anything close to it.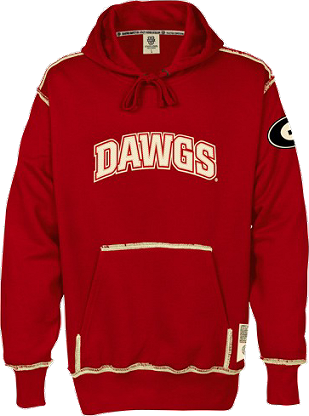 Last night, I couldn't sleep and again searched for this sweatshirt. Guess what?? I found one!! It's even on sale. It's not exactly like the Atlanta girl's, but it says DAWGS so that's good enough for me.
The problem is, it costs fifty bucks!! While it seemed okay to buy it while traveling, I'm having second thoughts now. But, it's taken me two years to find it. Then again, I don't really have an income so it seems extravagant. Yet, it's been a long time since I've bought myself something.
What to do?