Another holiday weekend has passed and with that another 'first...since the divorce" has also passed. I am almost finished with a year of firsts. I can't tell you how happy that makes me. Although, as long as my boys are gone, I imagine the second Thanksgiving, Christmas, birthday and other holidays will be just as lonely as the first ones were.
In spite of myself I had a nice weekend. Michele's family was lovely. I felt like I'd known them all my life. That's what I love about Michele and her family. They immediately welcome everyone in and treat them like their own. My family takes longer to warm up...even with each other. I'm not sure why that is.
To celebrate the fourth, all the girls went to see the newest Twilight movie. Because I haven't read the books or seen the first two movies, I opted out and stayed home with Gary. Everyone really enjoyed the movie, and in case you wondered, they said it was the best one yet. We spent the rest of the afternoon visiting, which I really enjoyed.
We had the traditional Fourth of July meal of hamburgers and hot dogs cooked on the grill, potato salad, chips and fruit. It was delicious. After we cleaned up from dinner, we finished the day by sitting the driveway and watching the city fireworks. I love lazy days like that. The only thing that could have made it better was to have my boys with me.
Even though I couldn't be with my kids this weekend, I did hear from them. Gus was in West Virginia baling hay on his friend's grandpa's farm. PJ is back on the ship, after a few days in port. We talked via email for a little while, which I always love. He sent this picture. He hardly ever smiles in a picture, so I was thrilled to see him smirk at least.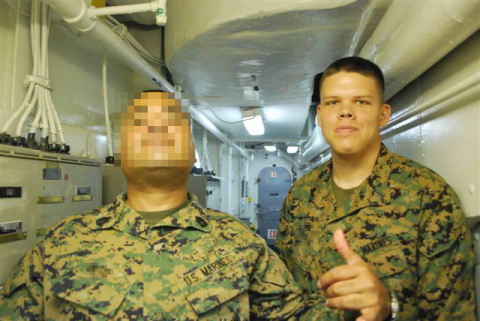 By the way, I blurred his buddy's face and their name tags for privacy reasons.