It's Friday! Are you all as excited as I am? Actually, I don't enjoy the weekends so much. It's a long story. But I do love
Fill In The Blank Friday
! If you want to play along be sure to visit its
the little things we do
.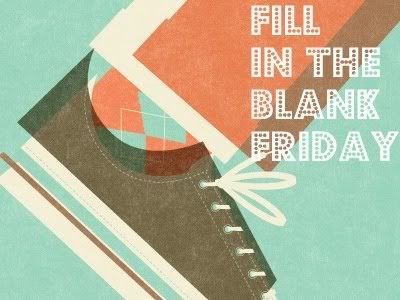 The most adventurous thing I've ever done is
steal a gas cap, in the middle of the night, from a government truck. I lost the gas cap off my step dad's truck and he had the same kind of truck as the Forest Service used. In the morning, however, I discovered I stole a blue cap and my step dad's truck was green. Uh-oh.
If I were a pair of shoes I would be
warm, cozy slippers. I'm a laid back, easy to get along with homebody.
My preferred mode of digital communication is
email. It's quick and easy. I have too much to say to text. It's too hard to put all my thoughts into 160 characters!
I feel happiest when
I'm with my boys and it doesn't happen often enough...but eating Chunky Monkey out of the carton with a spoon is a close second.
A little dream I have for my life is
to be a grandma. I want to be close to my grand kids and be completely involved in their lives. I just cannot wait until that day comes!
The one modern convenience I could NOT do without is
my iPod. I didn't have one until just this year, but I use it constantly. I don't think I could fall asleep anymore without it.
Music, movies, TV or books: if I could only choose one to enjoy I would pick
movies. But books are a super close second. In fact, it took me about ten minutes to decide.