I was transferring pictures from my phone to the computer tonight, and I realized I needed share them with you too. I haven't been such a great blogger lately. I've been too busy hosting pity parties for one. But that's another story and I'm positive you're not interested.
While I was away visiting my sister, Becky, our sister Valerie and her husband came to visit also. Valerie's husband had never been to Salt Lake City before, so she wanted to take him to Temple Square. It had been years since I'd been there so I was excited about going again.
We started the day with a bumpy drive up the canyon. It was beautiful, but my stomach was a mess by the time we reached the top. It was well worth the nausea when I realized where we were. We were on the backside of the Kennecott Copper mine. It is one of the largest copper mines in the world. This picture doesn't do it justice. It is one humongous hole in the ground! Completely impressive.
Becky, Valerie and I asked one of the guys to take a picture of us. We didn't realize until we were posing, we were all wearing white, the color of angels. It's a shame we all look so awful here because angels are supposed to be beautiful. The heavens must be disappointed in us.
We finally arrived at temple square. I love visiting on Saturdays, because there are brides, grooms and wedding parties, having pictures taken all over the grounds. It makes me remember my wedding day. I was too nervous to enjoy it. I regret that.
The grounds are beautiful. There are beds upon beds of fragrant and colorful flowers. The lawns are manicured to perfection. There was a slightly cool breeze blowing the day we were there. I love the sound of trees rustling in wind.
We peeked into the Tabernacle, home of the Mormon Tabernacle Choir. The pipe organ has 11,623 pipes!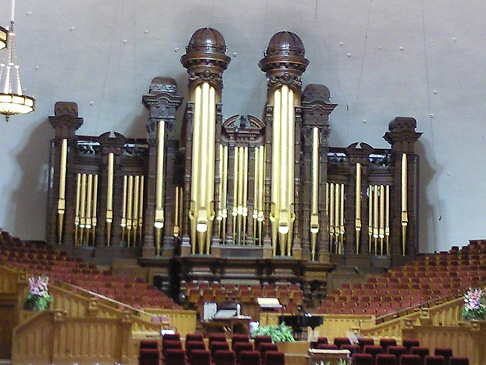 Next, we walked to the north visitors center to see the
Thorvaldsen's Christus, a beautiful 11-foot statue of the Savior. We were able to persuade my nephew to pose with the statue for us. Again, the heavens are disappointed for our lack of reverence. But in our defense, we weren't the only ones doing it!
We then walked over to the Conference Center. I'd never been there and it was amazing. I didn't take pictures, except for this one, from the rooftop garden. It was beautiful.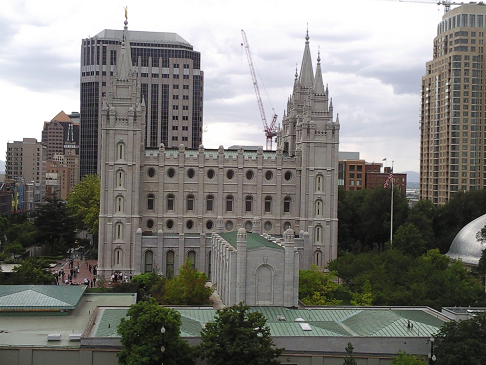 Just before we left, I took this of Becky and her family. In a few weeks, I'll be living with them. I absolutely love them.
A final look at the temple.