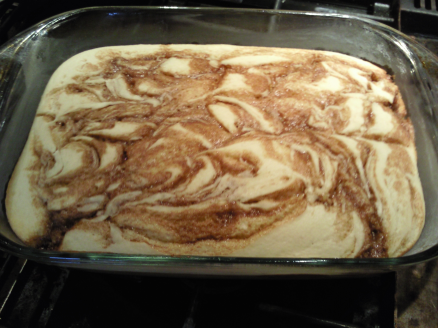 Please don't judge this recipe by the lousy picture I took. This cake is the yummiest thing I've tasted in a very long time. It's buttery, cinnamon-y and moist. It has just the right amount of sweetness and it was so easy to put together. It only took an hour from start to finish...and that's including washing dishes.
I saw it at
The Girl Who Ate Everything
. She didn't add the temperature but I set my oven to 350° and it worked perfectly. Also, I chose not to add the nuts, but I imagine they'd only make it that much better.
I really hope if you try this cake, you'll let me know if you enjoyed it as much as I did.
Cake:
¼ teaspoon salt
1 cup sugar
4 teaspoons baking powder
1 ½ cups milk
2 eggs
2 teaspoons vanilla
1/2 cup (1 stick) real butter, melted

Topping:
1 cup (2 sticks) real butter, softened
1 cup brown sugar
2 tablespoons flour
1 tablespoon cinnamon
3/4 cup chopped pecans, (optional) (always measure the nuts first then chop them)

Glaze:
2 cups powdered sugar
5 tablespoons milk
1 teaspoon vanilla

1. In an electric or stand mixer mix the flour, salt, sugar, baking powder, milk, eggs and vanilla. Once combined well, slowly stir in the 1/2 cup melted butter. Pour batter into a greased 9 x 13 inch baking pan.
2. In a large bowl, mix the 2 sticks of softened butter, brown sugar, flour, cinnamon and pecans until well combined. Drop evenly over cake batter by the tablespoonfuls and use a knife to marble/swirl through the cake.
3. Bake for 25-30 minutes or until toothpick comes out nearly clean from center. You want to make sure it's done. I like most things underdone but cake is not one of them.
4. Place powdered sugar, milk and vanilla in a large bowl. Whisk until smooth. Drizzle over warm cake. Serve warm or at room temperature.